PIECE OF CURTAIN USED TO COVER HOLY KA'ABA REINSTALLED AT UN HEADQUARTERS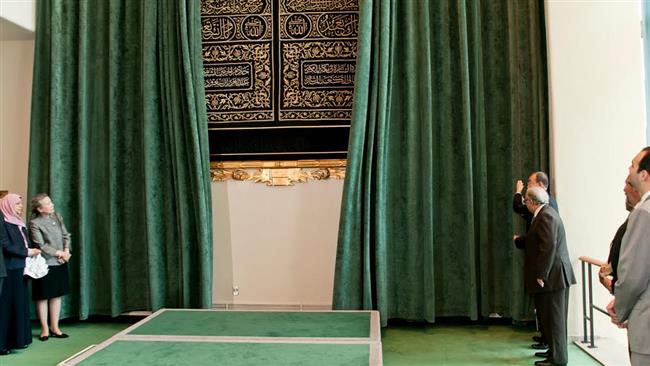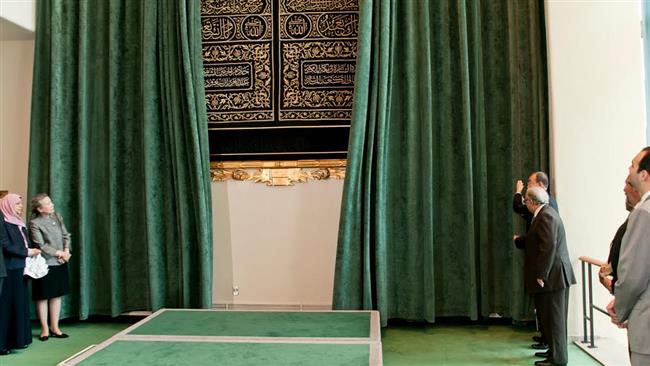 New York, 18 Shawwal 1436/3 August 2015 (MINA) – A piece of the Kiswah, the black silk and gold-embroidered curtain used to cover the holy Ka'aba, has been reinstalled at the United Nations (UN) headquarters in New York.
The curtain was unveiled during a ceremony attended by the Saudi Arabia's Permanent Representative to the UN Abdullah Al-Mouallimi and UN Secretary General Ban Ki-moon, Press TV reported.
According to Mouallimi, the piece was first presented to the UN in the early 1980s and sent to Mecca in 2014 as the Indonesian Hall, where the piece had been installed, needed to undergo renovation. While back in Saudi Arabia, the piece also underwent maintenance work.
The tapestry consists of nearly 50 black cloths made of pure silk and is decorated with verses from the Quran. It is interwoven with silver threads covered with gold.
Kiswah is draped annually on the 9th day of the month of Dhu al-Hijjah on the Islamic calendar. The time coincides with the day Muslim pilgrims leave for the plains of Mount Arafat during the Hajj pilgrimage.
It covers the Ka'aba, the most sacred Islamic site, which attracts millions of Muslims to Mecca every year during the Hajj pilgrimage. All Muslims around the world face the Ka'aba during their daily prayers.
Every year, the old Kiswa is removed, cut into small pieces, and given to individuals such as visiting foreign Muslim dignitaries as well as organizations.
In the past, the Kiswah was divided and distributed among the families known as the Ka'aba curtain holders. Later, the Saudi Arabian government decided to send the Kiswah to different Muslim countries as a gift.(T/R04/R03)
Mi'raj Islamic News Agency (MINA)