PALESTINIANS WELCOME SOLIDARITY ACTION BY INDONESIANS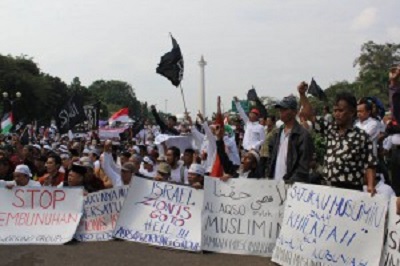 Jakarta, 16 Shawwal 1435/12 August 2014 (MINA) – Palestinians welcomed Indonesian solidarity action for Palestine held by Jama'ah Muslimin (Hizbullah) in Jakarta, Sunday, August 10,  2014.
Syaikh Dr. Mahmoud Anbar, a lecturer at Islamic University of Gaza said that he and the people of Gaza welcomed it after he heard the demonstrations and saw photos on mirajnews.com website and social media.
"The solidarity action shows Muslims in Indonesia care much about Palestinian struggle," said Anbar in social media, Sunday night local time.
According to him, Gazans have known how Muslims in Indonesia give full support for the liberation of al-Aqsa and independence of Palestine.
Previously, Chief of the Hospitals group in Gaza , dr. Sa'id Salah said that Muslims in Indonesia always went out from their homes for holding demonstrations supporting Palestinians. They went to streets for condemning Israeli occupation regime forces attacks. Gazans have known it, MINA's correspondent reported
"It is great moral support for our struggle in facing Zionist Israeli occupation regime forces," said Salah.
" Muslims in Indonesia are our brothers and sisters, our family and part of us. They can feel sore like ours," he added.
"It shows that International community reject Israeli occupation regime forces aggression in Gaza, Palestine," he said.
Palestinians are thankful to the world community, especially Indonesian people who continue holding solidarity demonstrations in support of Palestinians. The Palestinians need such moral and mental support in their struggle.
Coordinator of Aqsa Working Group (AWG) committee, Abdul Malik said that the solidarity protests are moral and spiritual support from Indonesian Muslims to people in Gaza, Palestine.
The participants of the solidarity rally waves banners in Arabic and English, such as: "Al-Aqsa Haqquna", "Zionist Israelis go to Hell", "Save Palestine", "Free Palestine, Save Gaza", "Open Rafah, Please Egypt, are you Muslim?"," Boycot Israel" and others.
Some participants also waved flags of Palestine and Indonesia and black flag read "Allahu Akbar". (L/R1/Syt/E01).
Mi'raj Islamic News Agency (MINA)