MER-C Medical Team Arrives in Syria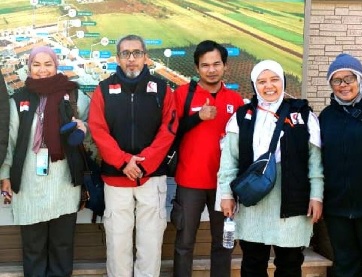 MER-C Medical Team (Photo: special)
Damascus, MINA – After carrying out a Humanitarian Mission to earthquake-affected areas in Turkey, MER-C (Medical Emergency Rescue Committee) directed its Medical Team to continue the humanitarian mission to Syria. This is in order to help victims of the devastating earthquake in that country.
The assigned team consisted of 5 volunteers, namely dr. Wahyu Bimantoro, SpAn, dr. T. Meaty Fransisca, Ita Muswita (surgical nurse), Thoyib Mirad (surgical nurse) and Desi Fitriani (Metro TV journalist). They left for Syria via Amman, Jordan, after obtaining visa permits from the Ministry of Foreign Affairs of the Syrian Arab Republic.
"Armed with visas, we departed from Istanbul, Turkey on Thursday evening to Amman, Jordan. From Amman, Friday morning, we immediately continued our overland journey to Damascus, the capital of Syria," said dr. Wahyu Bimantoro, SpAn as Head of the MER-C Medical Team for Syria.
The distance from Amman to Damascus is about 200 kilometers. If it's smooth, the land trip can be reached within 2.5 to 3 hours. However, this depends on the queue for inspection at a number of existing check points.
On Friday, February 24, 2023, around 10.30 local time, the MER-C Team finally reported that they had crossed the Jordanian border and entered Syrian territory.
"Thank God, with the existing visa permits, we were able to go through all the check point which were quite strict along the Jordan-Syria border without significant problems. Currently, we have entered the territory of the Syrian state," Wahyu continued.
The MER-C Medical Team for Syria is planned to be on duty for one week. Coordination with various parties had previously been carried out, such as the Syrian Embassy in Jakarta, the Indonesian Ministry of Foreign Affairs and the Indonesian Embassy in Damascus as well as local medical partners to determine the earthquake areas that still needed medical assistance.
"Please pray for us so that we can carry out this mandate properly and this humanitarian mission is given smoothness. We hope to be able to enter areas affected by the earthquake in Syria which still lack assistance, especially medical assistance. We will also carry out an assessment of the need for sending a follow-up team or other assistance," he added.
Support and donations of the MER-C Humanitarian Mission for earthquake victims in Turkey and Syria can be channeled through: MER-C Call Center 0811990176 (T/RE1)
Mi'raj News Agency (MINA)