MARK ZUCKERBERG IMPRESSES JOKOWI AND FACEBOOK-CRAZY INDONESIANS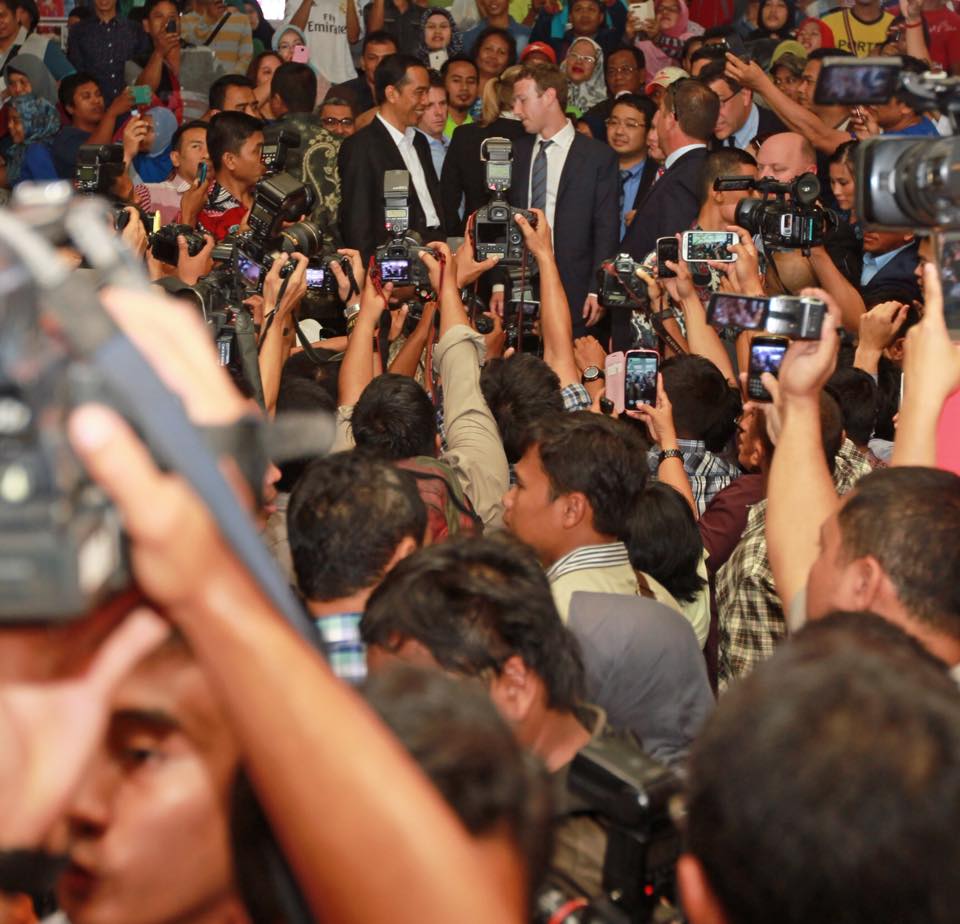 'A NICE JEWISH BOY' IS JOKO WIDODO'S FRIEND AND SHIMON PERES' FAVORITE JEW IN THE WORLD

by Syarif Hidayat*
Facebook-crazy Indonesians and Joko Widodo, who is scheduled to be sworn in as the 7th Indonesian President on Monday, October 20, 2014, were thrilled and impressed by Facebook chief executive officer and founder Mark Zuckerberg, a fast-track billionaire and according to one of Zionist leaders, "a very nice Jewish boy." Zuckerberg was raised Jewish and had his bar mitzvah when he turned 13.
'Bar Mitzvah' literally translates as "son of commandment." The word "bar" means "son" in Aramaic, which was the commonly spoken vernacular language of the Jewish people (and much of the Middle East) from around 500 B.C.E. to 400 C.E. The word "mitzvah" is Hebrew for "commandment." The term "bar mitzvah" refers to two things: it is used to describe a boy when he comes of age at 13-years-old and also refers to the Jewish religious ceremony that accompanies a boy becoming a Bar Mitzvah. Often a celebratory party will follow the ceremony and that party is also called a bar mitzvah.
He is a friend of Shimon Peres one of the leading Zionist leaders. Israeli President (the ninth President of Israel from 2007 to 2014) Shimon Peres and Facebook founder Mark Zuckerberg launched the Israeli president's international Facebook page on Tuesday, March 6, 2012, with Zuckerberg was first to press 'like' to the page.
Mark Elliot Zuckerberg, who was born in 1984 in White Plains, New York to a Jewish father, a dentist Edward Zuckerberg and a Jewish mother, a psychiatrist Karen Kempner, officially launched Facebook from his Harvard dormitory room on February 4, 2004 and within ten years with Facebook his personal wealth, as of July 2014, is estimated to be $33.1 billion.
Not only Israeli leader Shimon Peres, US President Barack Obama and former President George W. Bush, many Indonesians, majority of them Muslims including Joko Widodo were thrilled and impressed by this "nice Jewish boy", remarking about how "humble" and "friendly" the Facebook CEO and founder was to those he met in Indonesia.
Jokowi asks for Zuckerberg's help
Indonesia's president-elect Joko Widodo has met Facebook chief executive and founder Mark Zuckerberg in the country's capital of Jakarta to discuss ways the social network can contribute to his country's economy. Indonesia, which has a population of more than 250 million people, is one of the top five global users of social media.
Indonesia is the world's fourth-largest Facebook user after United States, India and Brazil. Facebook spokesman Andy Stone said there are 69 million active Facebook users every month, and 61 million of them are on mobile devices.
Joko Widodo, who is also known as Jokowi, asked Zuckerberg to help promote Indonesia's small businesses. "We talked about Facebook users in Indonesia and how to use Facebook to push micro-economy," Jokowi told reporters after their meeting on Monday, October 13, 2014.
"He (Zuckerberg) has agreed to help us," Jokowi noted. He said he was ready to work with the government. "There are around 70 million Facebook users in Indonesia, which provides great market potential, but I told him that [Indonesia] should also benefit [from the platform]." During the visit to Jakarta, Jokowi also gave Zuckerberg a tour of the Tanah Abang wholesale market to offer him a glimpse of the SMEs activities in Indonesia.
According to the World Bank, less than 16 per cent of Indonesians use the internet, but that figure is more than double what it was five years ago. Zuckerberg is using his trip to Indonesia to promote Internet.org, a Facebook-led project aimed at boosting internet access around the world.
The 30-year-old billionaire said improving internet connectivity could help to "transform the economy". "When we think about which countries to focus on with Internet.org and Facebook [we consider] how many people can use the services and also how much better and stronger the economy can be if everyone's on the internet," Zuckerberg said.
"Here I think there are 150 million or 200 million people who don't have access to the internet and unlocking that can transform the economy, can help create jobs and help small businesses grow. "There's a lot of data that suggests that business that use the internet to communicate with customers grow twice the speed of small businesses that don't use internet."
Zuckerberg met some of his site's 69 million Indonesian users Monday as he paid an impromptu visit to Tanah Abang shopping center for what is known locally as a 'blusukan.' He met president-elect Joko Widodo at his office in the capital Jakarta, before both men — still dressed in their suits — made a tour through the cramped alleys of a bustling textile market, mobbed by an enthusiastic crowd. "I cannot wait to cooperate with the Indonesian government to broaden internet access in this country, so that it can help the people to connect using the internet," Zuckerberg stated after visiting Jakarta's City Hall on Monday.
Such impromptu visits are a trademark of Widodo, known by his nickname Jokowi, whose man of the people image helped him win power at elections in July. He will be inaugurated next week. The Facebook founder said their conversations "focused on how big the opportunity is just to get everyone on the Internet, and on to basic services that they can use to communicate with people, like messaging and things like Facebook".
"If we do that then I do think we can help grow the economy in a big way, which is one of the primary priorities that (Widodo) has," he added. Experts believe that improved web access could greatly help businesses struggling to operate in Indonesia, which is spread across around 17,000 islands and three time zones.
In 2013 only 28 percent of Indonesians had Internet access, according to the country's association of Internet providers. However a huge number of those with access to the web are on Facebook, which is wildly popular in Indonesia. Zuckerberg was visiting Indonesia to promote the internet.org app, which allows people in underdeveloped areas to access basic online services.
Facebook launched the app earlier this year in cooperation with several partners and trials are taking place in several developing countries, including Indonesia. Zuckerberg also spoke enthusiastically about Indonesian culture, saying he hoped better web access would help to increase interest in the subject.
He was pictured at the weekend at the famous Hindu temple of Borobodur on the main island of Java. Zuckerberg also climbed the ancient Borobudur Buddhist temple in Central Java and posted a widely shared photo of himself atop its stupas on his Facebook page. "I just arrived in Indonesia and hiked up Borobudur to watch the sunrise. Tomorrow for Internet.org I'm looking forward to meeting with developers, operator partners and government leaders in Jakarta," said Zuckerberg on his Facebook status written on October 12, 2014 and transmitted from Borobudur.
"There are all this different parts of culture and innovation that the world can have from Indonesia that we are currently being robbed off because a lot of people don't have a way to share that and communicate that to the rest of the world," he said.
Nice Jewish Boy – Shimon Peres' favorite Jew in the world
The Atlantic's Jeffrey Goldberg posted the first part of his sit-down with former Israeli President Shimon Peres, and got him to expound a bit on Facebook's Mark Zuckerberg, or as Goldberg irreverently describes him, "the person who may be [Peres's] favorite Jew in the world." Peres has been enthusiastic in his embrace of Facebook, which is a big step since two years ago when he asked Goldberg "What is the name of the Jewish boy with the Facebook? Zuckerberger?" Since then, he's visited the Facebook campus. Goldberg writes:
Peres has gotten his own Facebook page, and has developed an elaborate theory of Zuckerberg, that he is a symbol of both Jewish ingenuity and the soaring spirit of American individual achievement. What he's looking for in Israel, in its energetic hi-tech sector, is the next Zuckerberg, he suggests. Science, creativity, and intellect are what will save Israel, he believes — as opposed to holding on to specific pieces of territory.
The interview is filled with insight, and not just about Peres' favorite American Jewish tech entrepreneurs. (He's also a fan of the "nice boy" from Google, Sergey Brin, who is 38 years old.).
Goldberg explained about his conversation with Shimon Peres in his Atlantic blog: "David Bradley, the owner of the Atlantic, and I sat down with Peres in his garden in Jerusalem to talk about Israel's relationship with the U.S., about Iran and the Palestinians, about the future of brain research (Peres can go on long riffs about science), and about the person who may be his favorite Jew in the world, Mark Zuckerberg."
Two years ago, Peres, in a meeting in Jerusalem, asked me, "What is the name of the Jewish boy with the Facebook? Zuckerberger?" I said, "Zuckerberg." He answered: "I met him. A very nice boy. Also the Jewish boy from Google, a nice boy." (That would be Sergey Brin.)"
In the two years since, on March 6, 2012, Peres has gotten his own Facebook page, and has developed an elaborate theory of Zuckerberg, that he is a symbol of both Jewish ingenuity and the soaring spirit of American individual achievement. What he's looking for in Israel, in its energetic hi-tech sector, is the next Zuckerberg, he suggests. Science, creativity, and intellect are what will save Israel, he believes — as opposed to holding on to specific pieces of territory.
(The Atlantic is an American magazine, founded in 1857 as The Atlantic Monthly in Boston, Massachusetts, now based in Washington, D.C. It was created as a literary and cultural commentary magazine and quickly achieved a national reputation as a high-quality review with a moderate worldview—a reputation it has maintained for over 150 years.)
(Jeffrey Mark Goldberg (Hebrew: ג'פרי גולדברג; born September 1965) is an American journalist. He is an author and a staff writer for The Atlantic, having previously worked for The New Yorker. Goldberg writes principally on foreign affairs, with a focus on the Middle East and Africa. Michael Massing, an editor of the Columbia Journalism Review, called Goldberg "the most influential journalist/blogger on matters related to Israel".)
Peres and Zuckerberg launch Israeli president's Facebook page
Peres invited Facebook users around the world to 'like' his page and post their own suggestions for advancing world peace. Peres praised Facebook as a vehicle for social change during a visit to the social networking company's Menlo Park, Calif., campus. Peres, 88, came to Facebook to launch his official personal page on the site that he hopes will open a dialogue with Arabs throughout the world and to meet with Facebook founder and Chief Executive Mark Zuckerberg.
"The matter of peace is no longer the business of governments but the business of people," Peres told Facebook's chief operating officer, Sheryl Sandberg, in an interview streamed live on Facebook. "Today the people are governing the governments. And when they begin to talk to each other, they are surprised. We should be friends." Asked by a Facebook engineer what Facebook could do to promote peace in the Middle East, Peres said: "What you are doing is convincing people they don't have reason to hate."
Peres is on a four-day tour of Silicon Valley to tout Israel's technology industry and strengthen ties between the two high-tech hotspots during stops at IBM and Google and a meeting with venture capitalists.
Silicon Valley in recent years has become a magnet for politicians and celebrities. There is no bigger attraction in Silicon Valley now than Facebook, which has 845 million users around the world and is on the verge of an initial public offering that could value the company at $100 billion or more. Asked how Israel evolved into a flourishing technology center, Peres said: "This is a case where the people enriched the land more than the land enriched the people," he said.
President Barack Obama was the first sitting head of state to visit Facebook's headquarters last year for an interview with Zuckerberg. Facebook held a town hall meeting at its former campus in Palo Alto. Obama's predecessor, George W. Bush, also paid a visit there.
Peres was the first sitting Israeli president to visit Silicon Valley. He joked that he no longer has the same kind of sway he had as prime minister. "When I was prime minister I gave orders," Peres said. "Now I must look for volunteers." The Israeli leader uses Facebook to advance his peace initiative through the social media.
One of the many ways that the election of Barack Obama as president has echoed that of John F. Kennedy is his use of a new medium that will forever change politics. For Mr. Kennedy, it was television. For Mr. Obama, it is the Internet social media.
"Were it not for the Internet, Barack Obama would not be president. Were it not for the Internet, Barack Obama would not have been the nominee," said Arianna Huffington, editor in chief of The Huffington Post. Obama used Facebook in his presidential election campaign.
Joko Widodo asked Zuckerberg to help promote Indonesia's small businesses. "We talked about Facebook users in Indonesia and how to use Facebook to push micro-economy," he said. Jokowi who also used the social media in his presidential election campaign, will be sworn in as President of Indonesia in Jakarta on October 20, 2014. (T/P3/R03)
*Deputy Editor-in-Chief of Mi'raj Islamic News Agency (MINA) (He can be contacted via emails: [email protected] and [email protected])
Sources:
1.International News Agencies
2.Online international Media
3.Jewish websites