US, S. KOREA AGREE TO SUPPORT INVESTMENT IN INDONESIA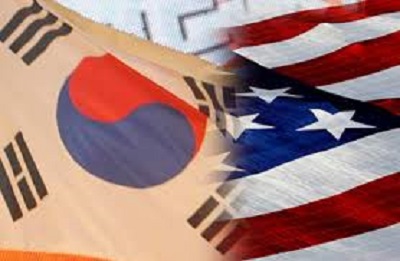 Tangerang, 16 Safar 1436/9 December 2014 (MINA) – The Indonesian chapters of the American Chamber of Commerce (AmCham) and Korean Chamber of Commerce (Kocham) have signed an agreement to support the nation's economic development, which will bolster investment under the new administration of President Joko "Jokowi" Widodo.
The "historical joint-agreement" between Indonesia's sixth- and seventh-biggest investors was formalized by the signing of a memorandum of understanding (MoU) recently, attended by South Korean Ambassador to Indonesia Cho Tai-young and US Ambassador to Indonesia Robert O. Blake.
"We're here to express our commitment to bring more FDI [foreign direct investment] to Indonesia, so that we can create more jobs for Indonesians. South Korean companies have created jobs for 1 million Indonesian workers here," Kocham chairman CK Song said after the MoU signing ceremony at Kocham's Golf and Dinner event in Tangerang, The Jakartapost quoted by Mi'raj Islamic News Agency (MINA) as reporting on Tuesday.
Acording to Song, Kocham, one of the leading foreign chambers in Indonesia, wanted to cooperate with AmCham, which had a stronghold in the global economy, in promoting investment in Indonesia. Many overseas investors were still uninformed about the country, which was one of the best investment destinations in the world, he added.
Jokowi showed a focus on attracting investment as he vowed to streamline all licensing procedures into one entity, the Investment Coordinating Board (BKPM), in the next four months after an impromptu visit to the BKPM office during the first few weeks of his tenure.
FDI is regarded as a key feature of economic growth in the country, where investment accounts for 30 percent of gross domestic product (GDP) — the second-largest growth driver after consumer spending — as well as to support the balance of payments, which is under pressure from the current-account deficit.
Both the US and South Korean chambers will play important roles in the future of Indonesia's economy as they represent a large number of important companies from South Korea and the US, which together account for about 8 percent of overall FDI in Indonesia this year. They have discussed issues that hamper FDI with the new administration, Song said.
South Korea is the seventh-largest foreign investor in Indonesia with total investment amounting to US$752 million in 715 different projects between January and September this year, according to data from the BKPM.
Indonesia will see more business expansions of South Korean companies next year, according to Song, especially those that have been operating labor-intensive industries in shoe, garment and electronic manufacturing, which account for about 60 percent of Korea's total direct investment in Indonesia. The remaining 40 percent is in the banking, infrastructure, natural resources and IT sectors.
"Most of the world's top 10 Korean companies have already invested in Indonesia, while others included in the top 100, such as the chemical and heavy industries, are also attracted here too. Samsung also wants to expand its business in this country," he said.
The US was ranked as the sixth-largest foreign investor in Indonesia between January and September this year, with total investment reaching $965.9 million in 131 different projects, BKPM data shows. Joint-research with the Paramadina Public Policy Institute found that US direct investment in Indonesia was poised to grow by $61 billion over the next five years if the investment climate was favorable.
During 2004-2012, US direct investment reached $65 billion from around 35 companies, with key sectors being agriculture, financial services, oil and gas, pharmacy and IT.
"The main issues in Indonesia that remain a concern for US investors are the regulatory environment, infrastructure and labor," AmCham Indonesia managing director Andrew White said previously.
Jim Mullinax, counselor for economic affairs at the US Embassy in Indonesia, said both the US and South Korean chambers had many shared interests in promoting a better business climate in Indonesia as the new government had made clear its commitment to develop the country's business and infrastructure sectors.
"Kocham in particular has a concern about the minimum wage laws and hoping that they have a voice as a major employer here. Overall, both chambers are very eager to find ways for American and Korean companies as well as other international investors to participate in Indonesia's growth," Mullinax said.
Indonesia's realized investment grew 16.8 percent to Rp 342.7 trillion ($27.86 billion) between January and September this year compared with the same period last year, of which 66.6 percent or Rp 228.3 percent was FDI and the remaining 33.4 percent or Rp 114.4 trillion was domestic direct investment (DDI). FDI grew 14.6 percent while DDI grew by 21.6 percent.(T/P009/R03)
Mi'raj Islamic News Agency (MINA)