ISRAEL BANS ACTIVIST ENTERING AL QUDS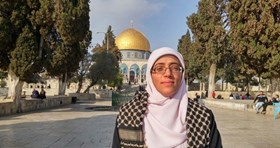 Jerusalem,  9 Rabi'ul Awwal 1437/20 December 2015 (MINA) –The Israeli occupation police on Thursday,(12/18)  issued orders barring pro-Aqsa activist Khadija Khuwais from traveling and entering the eastern and western parts of Occupied Jerusalem for six months.
Khuwais told Qpress website that the Israeli police handed her written verdicts banning her entry to east and west Jerusalem for six months and her travel abroad for the same period.
She added that the Shin Bet apparatus refused to give her back her passport which its interrogators had confiscated from her two weeks ago, The Palestinian Information Center (OPIC) quoted by Mi'raj Islamic News Agency (MINA) as reporting.
Khuwais, who works as a teacher at the Aqsa Mosque, affirmed that such an unjust decision would not dissuade her from serving and working for the Islamic holy shrine.
"Serving the Mosque is not constrained to time or place," she said.
She expressed her belief that such measures against the Jerusalemites are aimed at controlling the Aqsa Mosque and provide protection for the settlers who desecrate it.
This is a very difficult time, but even from our homes and in the streets, we will keep working for Jerusalem and the Aqsa Mosque, and devising and inventing different solutions and ways to serve it. (T/Imt/R03)
Mi'raj Islamic News Agency (MINA)