INDONESIA NGOS SEND A LETTER TO EL-SISI ON GAZA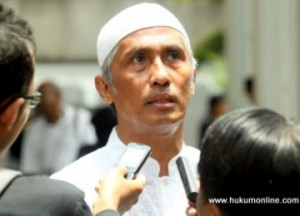 Jakarta, 18 Ramadan 1435/16 July 2014 (MINA) – Indonesian Non-Government Organizations, Lawyers Team for Muslim Defense (TPM) and  Medical Emergency Rescue Committee (MER-C) sent a letter to the current Egyptian President, Abdel Fattah el-Sisi, urging him to allow international aids to enter Gaza.
"We delivered a letter to el-Sisi, the current Egyptian President, to provide a way for volunteers and assistance from Indonesia to enter Gaza, " Chairman of TPM Ahmad Michdan told Mi'raj Islamic News Agency (MINA) after they visited  Egyptian Embassy in Jakarta, Wednesday afternoon.
Ahmad  stressed that Indonesians have huge support  to end occupation in Palestine, as the country was the first country to recognize Indonesian independence a long time ago.
"The top priority now is humanitarian assistance. So we sent a letter to the Egyptian President through the ambassador of Egypt, " said Ahmad, who came with lawyers from MER-C, Mochamad Ridwan Talib, as well as some representatives from Islamic organizations.
They were received by the representative of the embassy. They promised to immediately submit the request to the Egyptian president.
A few days ago, Indonesian Ambassador to Egypt Nurfaizi Suwandi called on all volunteers from Indonesia to temporarily halt traveling to Gaza Strip due to the current conditions caused by the Israeli latest strikes.
"Indonesian volunteers should not visit Gaza in the current conditions," said Mr Nurfaizi in Cairo, Friday (11/7), ABC News reported.
According to him, under the current conditions, Rafah  border which connects Egypt and the Gaza Strip was closed by Egypt General Intelligence Service (GIS), and no residents were allowed to enter Gaza.
"Our ambassador in Egypt has issued a statement that volunteers could not enter Gaza. But we see the public interests in Indonesia is extraordinary. Therefore, we requested the assistance from Indonesia could be facilitated by the Egyptians who have access  to get into Gaza, " said Ahmad.
The building of Indonesian hospital has completed in the north of Gaza Strip, yet can not be used due to the lack of health equipments.
The  massive donations from Indonesian people through MER-C as humanitarian agency is still on its way, as they expect the hospital could be inaugurated and operated as soon as possible to help the people of Gaza (L/P09/P04/P03/E01)
Mi'raj Islamic News Agency (MINA)