Indonesia-Egypt Agree to Bring Jakarta Declaration to UN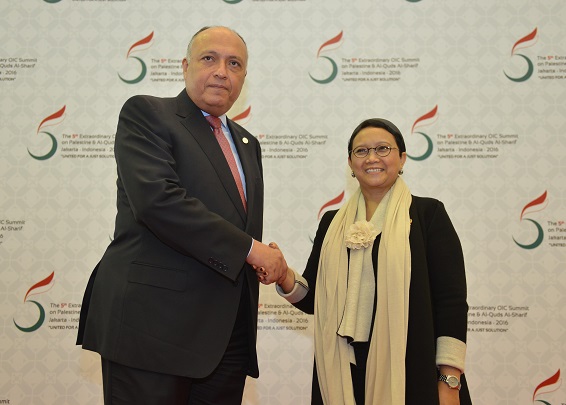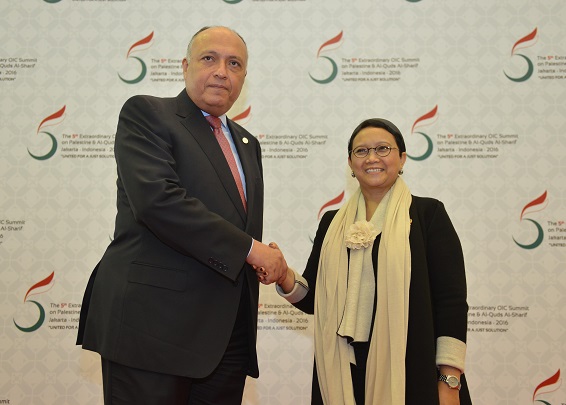 Jakarta, 27 Jumadil Awwal 1437/6 March 2016 (MINA) – Indonesian Foreign Minister Retno Marsudi and Egyptian Foreign Minister Sameh Soukry has agreed to bring the results of the 5th Extraordinary OIC Summit on Palestine and Al Quds Al-Sharif to the United Nations and other international bodies.
"Egypt plays a significant role in the discussion of the Palestinian issue, and with the support of Egypt, the conference will be able to generate a very good resolutions and declarations," Retno Marsudi said in a joint press statement after a bilateral meeting on the sidelines of the summit held at the Jakarta Convention Center ( JCC), on Sunday.
Today, Egyptian Prime Minister Sharif Ismail opened the Islamic conference in his capacity as the President of the 12th OIC Summit before handing over the presidency to Turkey, the host country of the upcoming summit in Istanbul from April 10 to 15.
"We intend to continue to cooperate with Indonesia in the future to lift the outcome of the Summit and the various issues concerning the rights of Palestinians to the UN General Assembly and other international meetings," said Sameh Soukry.
Besides addressing the Palestinians, the two ministers discussed bilateral cooperation and agreed to increase the export import in several fields. Bilateral trade between the two countries in January-November 2015 reached US$ 1.28 billion, this figure has decreased from the previous year which reached US$1.4 billion.
Indonesia's main export to Egypt, among others, palm oil and its derivatives, tire, rubber, coffee, fridge, freezer, filament yarn artificial, paper, animal fat or vegetable oil, soap, fiber board of wood, plywood, veneer panels and wood laminates, and others.
While Indonesia's main imports from Egypt, among others, calcium and aluminum phosphate, lime, natural & calcium phosphate, dates, figs, pineapple, mango, avocado, guava, potatoes, beet-pulp, bagasse, coriander, cumin, cotton, carpets , textile products, activated carbon; natural mineral products, coffee and tea concentrates, and others.
In addition to trade, the two sides also discussed Indonesian students in Egypt, whose number continues to increase every year.
Currently there are at least 3,000 Indonesian students studying in Egypt, mostly at the University of Al-Azhar. Since the '60s the University provides scholarships for Indonesian students.   (L/R04/R07)
Mi'raj Islamic News Agency (MINA)