HUNDREDS OF IRANIAN ATTACKED AND BURNED THE SAUDI EMBASSY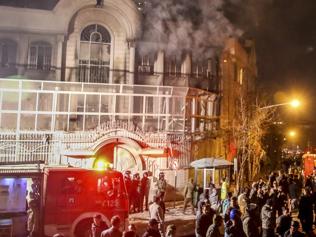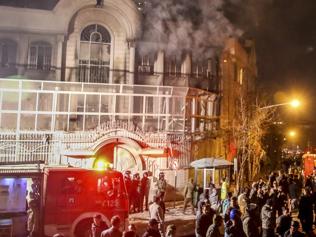 Masshad, Iran, 23 Rabi'ul Awwal 1437/3 January 2016 (MINA) – Saudi Arabian Interior Ministry issued a statement on Saturday morning announcing the execution of imprisoned Shia cleric Sheikh Nimr al-Nimr.
From the early minutes after the news was published, thousands of messages and pictures were shared on Iranian social media and by the afternoon calls for protests in front of Saudi embassy was shared among many users.
While the protest has been planned for Sunday afternoon, many people from all walks of life gathered first in front of Saudi consulate in northeastern city of Mashhad in Khorasan Razavi province. Protesters in Mashhad chanted slogans against the Saudi regime and brought the flag of the building down to show their anger, ABNA quoted by Mi'raj Islamic News Agency (MINA) as reporting.
Few hours later, around 10:30 PM hundreds of people gathered outside the KSA embassy in northern Tehran. Predicting the gathering, diplomatic police had already sent its forces to cordon off the embassy.
Just nearly half an hour later, number of protesters raised and the public rage sparked chants and shouts against the Saudi regime and its execution of Sheikh Nimr al-Nimr; according to the reporters from the scene, the situation worsened when one of the protesters threw a Molotov cocktail at the building.
"Huge crowd of people rushed toward the entrance gate of the building passing through resisting police forces and managed to break the gate," described Sadra Saeidian of M.News. "Protesters entered the building and broke glasses and destroyed furniture."
Angry protesters have also taken the Saudi flag off the embassy. Meanwhile, gas exploded in the embassy building which caused heavy damages to the parking area and first floor of the building. But no casualties were left.
According to reporters police forces could handle the situation and evacuate the protesters from the building only after new security forces were deployed.
The Saturday night unrest in front of the Saudi embassy wrapped up after police Commander Sajedinia attended the scene and told reporters about arrest of several protesters. (T/P001/R04)
Mi'raj Islamic News Agency (MINA)