How Erdogan Turns to Social Media to Help Foil Coup in Turkey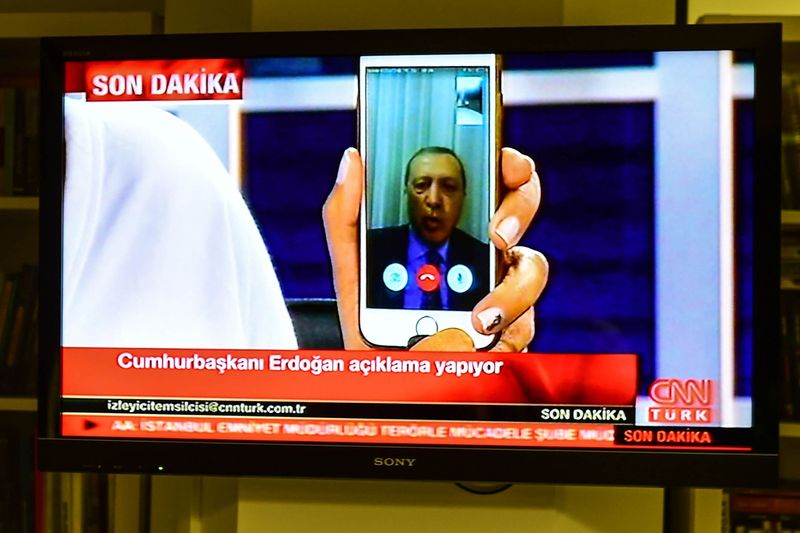 Istanbul, 12 Syawal 1437/17 July 2016 (MINA) – When the military officers who attempted to topple Turkey's government swung into action they picked the usual targets — state-run television, a satellite communication link, major bridges, airports and parliament.
But President Recep Tayyip Erdogan, whose supporters eventually quashed the attempted coup, wielded an effective combination of the old and the new to rally followers and convince the country he was still in charge.
During the hours his whereabouts were unknown on Friday night as chaos reigned on the streets of Istanbul and Ankara, he took to FaceTime to reach a television presenter and send his first message to the nation.
"We will overcome this," Mr Erdogan told the CNN Turk anchor. "Go to the streets and give them their answer."
He then tweeted to his 8.6m followers, posted on his Facebook page, and his aides turned to WhatsApp to keep in touch with each other as they sought to wrest back control of the situation.
Mr Erdogan also reached out to his Islamic voters, getting the imams of local mosques to use their loudspeakers to call citizens to the streets, which created a massive show of public support that was amplified by people's broadcasts on Facebook Live and Twitter's periscope app.
When internet access started to stutter, the president's office sent a nationwide text message signed by him, asking people to stand up for democracy against a "narrow cadre" of opponents.
His canny and real-time capture of the public's attention helped him stall for time as he rallied the factions of the military loyal to him to aggressively put down the coup, even as the offices of CNN-Turk were stormed, and control of the state broadcaster fell briefly into the hands of rebel soldiers.
Akin Unver, an assistant professor of international relations at Kadir Has University, said using imams to urge people to take to the streets gave the government the edge, enabling Mr Erdogan's call for counter-mobilisation to reach a wide audience in a short time.
"We witnessed a similar competition [between] these traditions of political communication with a rogue military group communicating through WhatsApp and aiming to seize state-owned TV and satellite networks," Mr Unver said. "In return, the government adopted an interesting mixture of both traditional and 21st century methods."
At 9am on Saturday, Binali Yildirim, the prime minister, tweeted to his followers to provide support to help regain control of a police department in Istanbul.
In the end, Mr Erdogan circumvented the rebel soldiers' focus on the traditional institutions of power — the familiar image of a television newscaster being forced to read from a military script and a complete blackout of information.
This blend of behind-the-scenes action, combined with the ability to flood people's news and social media feeds with assurances of control, appears to have turned the tide in the early hours of Saturday.
Images of gun-wielding soldiers and rogue aircraft in the skies were replaced with those of citizens surrounding tanks, crowding troops already reluctant to open fire. Pictures were broadcast of troops turning over their weapons, stripping off their uniforms and surrendering.
"I never thought I'd write this, [but] Erdogan takes to Twitter and FaceTime as a coup attempt in Turkey is thwarted by government supporters using social media," wrote Zeynep Tufekci, a Turkish assistant professor at the University of North Carolina, Chapel Hill, who studies the interaction of technology and society. (T/R07/R01)
Mi'raj Islamic News Agency (MINA)