GOVT PREPARES FIFTH ECONOMIC POLICY PACKAGE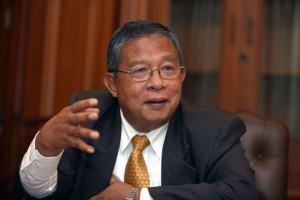 Jakarta,  4 Muharram 1437/17 October 2015 –  The Indonesian government is now preparing the fifth economic policy package, having issued the fourth such package on Thursday, Chief Economic Minister Darmin Nasution has said.
The fifth policy package would be about deregulation of permits at the regional level, he said here on Friday, Antara News Agency quoted by Mi'raj Islamic News Agency (MINA) as reporting.
Darmin did not explain the focus of the fifth economic policy package but said it would be made public after President Joko Widodo returns from the US at the end of this month.
"We actually still have a lot of stocks which are to be deregulated but let us discuss it later," he said.
The government issued the fourth economic policy package on Thursday, that contained, among other measures, simplification of the wage system, expansion of the ambit of recipients of smallholder credit and implementation of credit extension by LPEI (Indonesia Export Financing Institution) to prevent lay-offs.
On October 7, the government had issued the third economic policy package that covered issues such as reducing the price of fuel oils, electricity and gas, expanding the ambit of recipients of smallholder credit (KUR) and simplifying the process of land permit issuance for investment.
The third economic policy package had followed the first and second packages, declared in September 2015, that were aimed at deregulation to improve the investment climate in the country and expedite the implementation of development projects.
The larger aim behind the economic policy packages is to accelerate the development of a conducive macro-economy, move the national economy forward, protect low-income community members and stimulate the rural economy.
The economic policy packages were issued by the government in a series to overcome the economic slowdown following global economic uncertainty and, at the same time, make Indonesia more competitive and strengthen its economic structure. (T/P010/R04)
Mi'raj Islamic News Agency (MINA)