FREED PALESTINIAN SCHOOLGIRL INSISTS ON HER INNOCENCE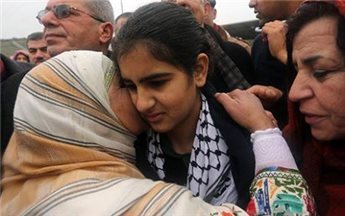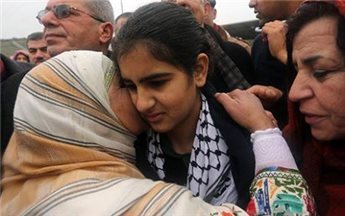 Jerusalem, 25 Rabi'ul Akhir 1436/15 February 2015 (MINA) – A 14-year-old girl who has become a symbol for Palestinian minors arrested by Israel insisted on Saturday after serving a 45-day sentence that she had been unjustly imprisoned.
"I do not admit to any crime: I was not throwing stones — I had no knife on me," Malak al-Khatib told AFP.
She was arrested on her way home from school on Dec. 31, and a military court sentenced her in late January to two months as part of a plea bargain in which she admitted to picking up a stone to throw at Israeli cars, Ma'an News Agency quoted by Mi'raj Islamic News Agency (MINA) as reporting.
Malak was convicted of being in possession of a knife with the intention of using it to stab security personnel if arrested.
"After two hours of interrogation, a soldier forced me to sign a paper in Hebrew," said Malak, who does not understand the language.
A white and black Palestinian kuffiyeh scarf draped across her shoulders, Malak sat among friends as relatives, Palestinian officials and journalists paraded through the family home, as they have since her release on Friday.
"I'll definitely have plenty to tell my classmates when I go back to school" in three days, she said at her house in Beitin near Ramallah in the West Bank, such as "how cold it is inside prison."
She served her time in a cell with three older Palestinian girls. The Palestinian Prisoner's Society said two weeks were deducted from the sentence because of her age.
Israel arrests around 1,000 children every year in the West Bank, often on charges of stone-throwing, according to rights group Defense for Children International Palestine.
Malak's arrest attracted more attention than most cases because she is a girl.
The Prisoners' Club estimates that of 200 Palestinian minors in Israeli prisons, only four are female and Malak was the youngest.
Her family repeatedly said that none of its members had ever been arrested by the Israelis before, a rarity in the occupied West Bank.
Her father Ali al-Khatib said on Saturday he was "very pleased and touched by the many visitors who came to congratulate Malak."
But his daughter was beginning to show the strain, whispering to her mother: "Do you think this will go on for long? I'm tired of all these visits." (T/P010/P3)
Mi'raj Islamic News Agency (MINA)