ERDOGAN: VANDALISM DURING KOBANI PROTESTS TO BE PUNISHED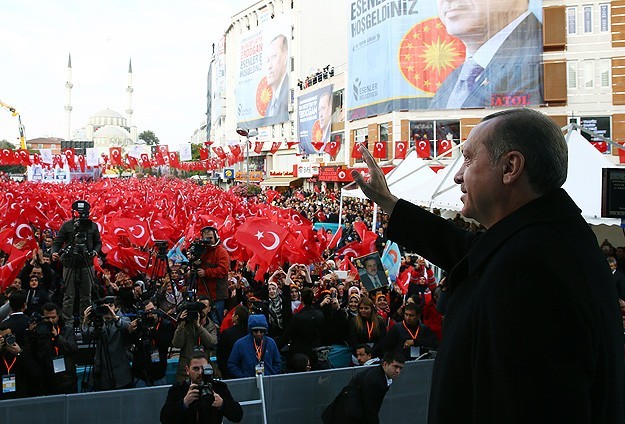 Istanbul, 10 Muharram 1436/3 November 2014 (MINA) – The perpetrators of violence and murders, carried out under the pretext of protesting the violence of the Islamic State of Iraq and the Levant in Kobani, will not go unpunished, President Recep Tayyip Erdogan said on Sunday.
"Do not ever think that these assailants will go unpunished. Our security and intelligence units are locating the perpetrators and murderers one by one and will make them stand before the judiciary," he said addressing a crowd in Istanbul, Anadolu Agency quoted by Mi'raj Islamic News Agency (MINA) as reporting.
"A new law that will be accepted by our parliament will allow stronger measures to be taken against such actions," he added, referring to a bill proposed by the government last week.
The bill on domestic security will give additional power to law enforcement agencies, in order to prevent crime and handle massive acts of violence more rapidly and effectively.
The deadly pro-Kurdish protests erupted during the Eid al-Adha holiday, only one day after ISIL militants entered parts of Kobani, also known as Ayn Al-Arab, on October 6.
The demonstrations left at least 38 people and two policemen dead.
The fatal clashes also caused financial damage in several provinces as government buildings, vehicles and even Red Crescent vans were set ablaze.
Clashes between the ISIL and the PKK-affiliated Democratic Union Party's armed units have been ongoing in Kobani since September.
Approximately 200,000 Syrians fled to Turkey from Kobani last month, leaving around 2,000 Kurdish fighters in the town.
Last week, Turkey allowed the passage of north Iraqi Peshmerga and Syrian armed opposition through its territory to defend Kobani.
The Syrian-Turkish border town is currently being defended by the PKK-affiliated Democratic Union Party, which Turkey does not want to be aided by West on the grounds that it considers it a terrorist organization.
Erdogan has also said that Turkey cannot turn its back and ignore developments in the Middle East and other crisis-hit regions, as it is a regional heavyweight.
"Especially for Syria and Iraq, it is possible to feel the repercussions of their problems and the crises of our region here in Istanbul. Because Istanbul is not only the heart of our country, but it is the heart of our region," he said.
"We inherited our country from the Ottoman Empire and the Seljuq Dynasty, we cannot ignore the developments in Bosnia, Egypt or Iraq. We have to share their grief. This is a duty on the shoulders of the new Turkey — a regional powerhouse," he added. (T/P001/P3)
Mi'raj Islamic News Agency (MINA)