EGYPTIAN OFFICERS INJURED IN NORTH SINAI, ARMY SAYS 12 MILITANT KILLED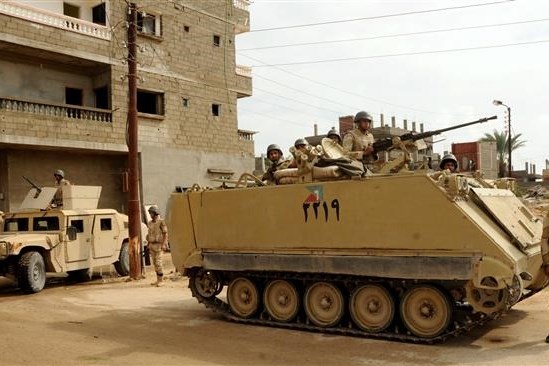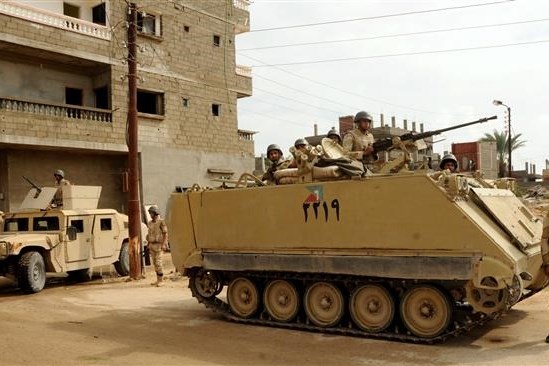 Cairo, 10 Shawwal 1436/26 July 2015 (MINA) – Three Egyptian military officers were injured on Friday evening when a roadside bomb hit their armored vehicle south of Sheikh Zuweid in Egypt's northern Sinai Peninsula, security sources said.
The vehicle was patrolling the road between the Sheikh Zuweid and al-Jura villages when it was hit, Egyptian security sources told Ma'an, adding that the bomb had detonated remotely by what they termed "fundamentalists."
The injured officers were evacuated to an Egyptian military hospital in the nearby city of El-Arish, Ma'an News Agency quoted by Mi'raj Islamic News Agency (MINA).
An Egyptian army spokesman Muhammad Samir told reporters Friday morning that the army killed 12 gunmen affiliated to the Ansar Beit al-Maqdis militant group during military operations south of Sheikh Zuweid.
Ansar Beit al -Maqdis is one of several militant groups that has waged an insurgency against the Egyptian military and security forces since 2013.
Attacks in the region — bordering Gaza and Israel — have killed hundreds of policemen and soldiers, allegedly in response to the bloody repression launched by the authorities under President Abdel Fattah al-Sisi's control, which has seen at least 1,400 killed and thousands more jailed.
Egyptian authorities stepped up a campaign to crack down on militants in the area, claiming to have killed over 1,100 militants since 2013.
The Ansar Beit al-Maqdis group has claimed responsibility for the majority of the attacks and changed its name to Wiliyat Sinai when it pledged allegiance to IS last November.
The group launched one of it's largest attacks on July 1. The Egyptian military responded with airstrikes after the IS-affiliated militants had taken over rooftops nearby Egyptian police forces.
Israeli and Egyptian officials claimed that the Hamas movement in the Gaza Strip was partially responsible for assisting the militant group in the attack, allegations Hamas leadership denied.
The army said at the time that 17 soldiers and 100 militants had been killed during the exchange, but medical and security officials reported the death toll was at least 70 people, mostly soldiers.
Discrepancy in death tolls with state media later resulted in an "anti-terror media law," passed mid-July that imposes fines on journalists who report "false information on terrorist attacks that contradict official statements."  (T/P010/NMT)
Mi'raj Islamic News Agency (MINA)