EGYPT BRINGS 439 CIVILS TO MILITARY COURT OVER POST-RABAA DISPERSAL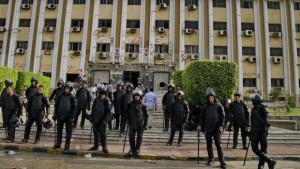 Cairo, 21 Safar 1436/14 December 2014 (MINA) – The Egyptian prosecution referred on Saturday 439 civilians to the military judiciary over violence which followed the deadly dispersal of two pro-Mohamed Morsi camps in August 2013, Reuters' Aswat Masriya reported.
Police forcibly dispersed with violence and gunfire that killed over 4,500 innocent civilians and 15 thousand others injured in demonstrations against the overthrow of President Mohammed Morsi  at two sit-in, Rab'a Adawea Square in Cairo, and Nahdah Square in Giza.
Egypt's top prosecutor referred 139 civilians, believed to be Muslim Brotherhood supporters, to a military tribunal over the killing of a police officer and two policemen, as well as breaking into a police station in Minya and torching it, Ahram online quoted by Mi'raj Islamic News Agency (MINA) as reporting.
While, no one so far reffered to any military for the killing of thousands peace protester in the two sit-in spot.
The Damanhour general prosecutor referred 300 more to the military prosecution, accusing them of torching the Beheira Governorate building.
Gamal Abdul Hameed, a Minya lawyer following up with the case, told Aswat Masriya the Minya case was referred to the military prosecution based on a decree passed by President Abdel Fattah al-Sisi in October.
Sisi issued on October 27 a new law which refers crimes committed against the state's public and "vital" facilities to the military judiciary.
The law, criticised by human rights organisations for expanding the jurisdiction of military tribunals on civilians, was passed shortly after the death of at least 33 security personnel in militant attacks in Sinai on October 24.
The Cairo Criminal Court referred to a military tribunal on November 16 five students at al-Azhar University accused of torching the university's control room, based on the same law.
Article 204 of Egypt's new constitution already allows referring civilians to military trials "in cases which represent a direct assault on armed forces institutions, their camps or anything that falls under their authority, alongside assaults on military or border zones, and military institutions, vehicles, weapons, ammunition, documents, secrets, public funds, or factories."
The article was strongly condemned by civil society organisations and a number of political movements before the constitution passed.
No Military Trials for Civilians, a group campaigning against referring civilians to military tribunals, has rallied protests against this article as well as previous legislations which allow the military trial of civilians.
Authorities have led a crackdown on Muslim Brotherhood members and supporters since the military ouster of Morsi in July 2013. Morsi himself is in jail, facing a string of accusation in more than one court case.(T/R04/R03)
Mi'raj Islamic News Agency (MINA)