Construction of Indonesian Hospital Keeps Running Amid Gaza's Underattack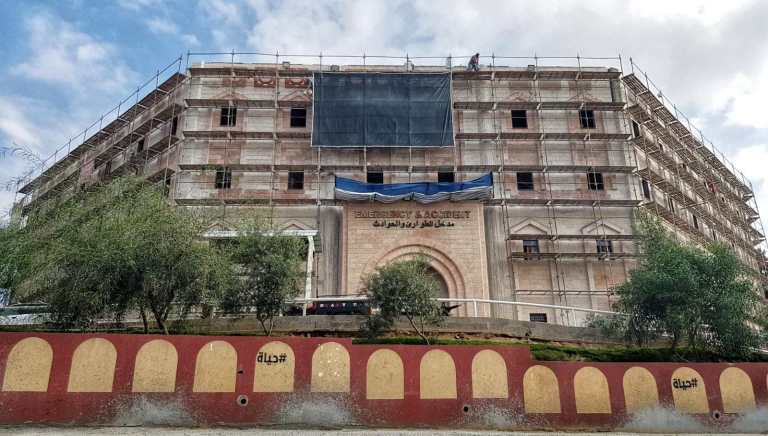 Indonesian Hospital In Gaza (photo: special)
Gaza, MINA – Site Manager of Indonesian Hospital in Gaza, Edy Wahyudi said that although the condition of Gaza Strip was heating up, the activities of Indonesian volunteers for the second phase construction of Indonesian Hospital continued to run despite all temporary activities carried out inside the hospital building.
"Thanks Lord, all volunteers are in good condition. Even though there was an airstrike since dawn today, the second phase of construction activities in Indonesian Hospital continues, even for internal work only, "said a volunteer who has experienced in the Gaza Strip since 2010.
He said the structure had been completed 100 percent. Currently, architectural work is underway which runs 56 percent and mechanical electrical reach to 28 percent.
"Please pray for the people of Gaza and construction of Indonesian Hospital," he added.
There are 29 Indonesian volunteers still in the Gaza Strip to build Indonesian Hospital, which is building the 3rd and 4th floors of the hospital. The volunteers have been serving in this area since the end of February 2019. The duration of the construction itself is estimated to take 1.5 to 2 years.
Israeli forces on Tuesday morning launched airstrikes into the Gaza strip.
Palestinian Ministry of Health in Gaza released the latest data on the victims of the Israeli attack to date, reaching three martyrs and 18 others injured.
Indonesian hospital volunteers in Gaza said a number of victims of the attack were rushed to the Indonesian hospital located in Bayt Lahiya, northern Gaza Strip or about 2.5 kilometers from Israeli border. (T/Sj/P2)
Mi'raj News Agency (MINA)