ASEAN Foreign Ministers Meet, Focus on North Korea, South China Sea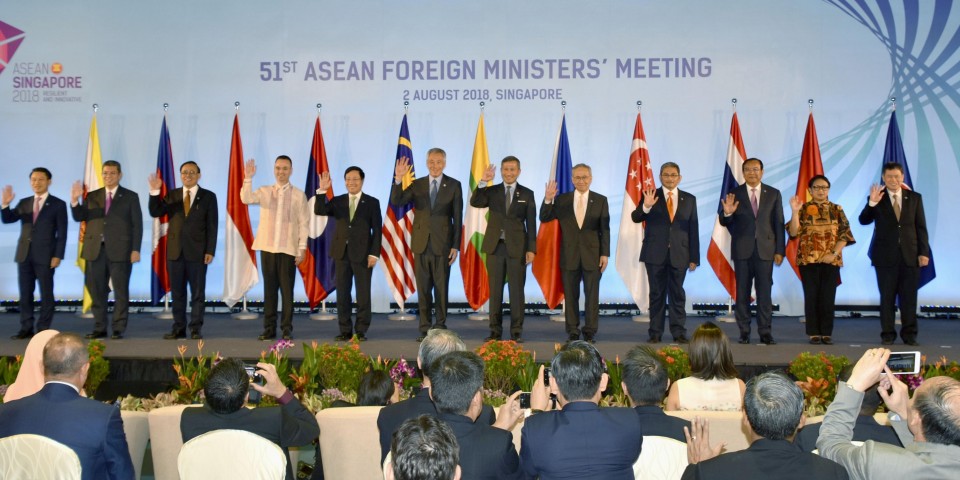 Singapore, MINA –Foreign ministers of the Association of Southeast Asian Nations started a m eeting Thursday in Singapore, focusing on North Korea's nuclear weapons program and China's assertiveness in the South China Sea, Kyodo News reported.
The meeting comes as tensions on the Korean Peninsula have eased since a historic summit between U.S. President Donald Trump and North Korean leader Kim Jong Un in Singapore on June 12, although Pyongyang has yet to take concrete and credible measures to rid itself of nuclear weapons and ballistic missiles.
In his opening remarks, Singapore Prime Minister Lee Hsien Loong called on the 10-member regional bloc to do more on its economic integration efforts and other economic goals amid global trade tensions, as well as make full use of technology to enhance development.
ASEAN, having "achieved its initial political objective of regional peace and stability," has "shifted its focus to economic cooperation," Lee said.
"While these ASEAN-led structures have served us well, we must continue to strengthen the regional architecture. We can all see the growing geopolitical uncertainties."
Noting escalating trade tensions between the United States, and China and other countries, Lee said, "It is important that ASEAN continues to support the (rules-based multilateral trading) system and work with like-minded partners to deepen our web of cooperation."
Welcoming the North Korean leader's commitment
The annual foreign ministerial meeting is being hosted by Singapore, which holds the rotational chairmanship of ASEAN this year. Related meetings involving ASEAN members and their partner countries will run until Saturday.
According to a draft of a joint communique to be issued after Thursday's meeting, the foreign ministers will welcome the North Korean leader's commitment to "complete" denuclearization in a joint statement he signed with Trump during the first-ever U.S.-North Korea summit.
While noting Pyongyang's pledge to suspend further nuclear and missile tests, the ministers will express ASEAN's support for achieving complete, verifiable and irreversible denuclearization of the Korean Peninsula, says the draft, a copy of which was seen by Kyodo News.
In veiled criticism of China's militarization of disputed features in the South China Sea, the ministers will emphasize the importance of "non-militarization and self-restraint" in the conduct of all activities in the disputed waters, the draft says.
At the same time, they will welcome the progress of negotiations between the 10-member ASEAN and China toward the early conclusion of an effective code of conduct in the sea on a mutually agreed timeline, it says.
Beijing has overlapping territorial claims with Brunei, Malaysia, the Philippines, Vietnam and Taiwan in the South China Sea, a strategic waterway through which over a third of global trade passes.
Aside from North Korea and the South China Sea, the ministers will also discuss issues such as counterterrorism, human rights and economic integration, especially the Regional Comprehensive Economic Partnership, a free trade initiative involving 16 economies including ASEAN, Japan, China and Australia.
On the issue of over 720,000 Rohingya refugees in Bangladesh, the ministers are expected to call for their return to Myanmar's Rakhine State in a safe, secure, and dignified way without undue delay, according to the draft.
ASEAN-related meetings to be held in Singapore through Saturday will include foreign ministers not just from ASEAN but such countries as Australia, Canada, China, India, Japan, New Zealand, Russia, the United States and the two Koreas.
World leaders such as U.S. President Donald Trump and Russian President Vladimir Putin are expected to gather in Singapore in November for an ASEAN summit.
ASEAN groups Brunei, Cambodia, Indonesia, Laos, Malaysia, Myanmar, the Philippines, Singapore, Thailand and Vietnam.
1 hour ago | KYODO NEWS