Al-Fatah Islamic Boarding School Introduces Demonstration Plot Planting Model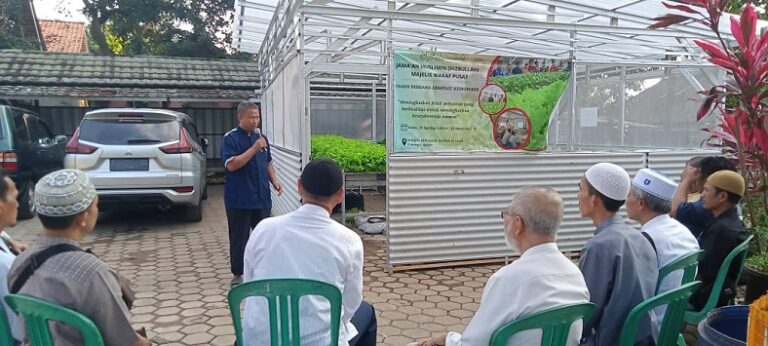 Bogor, MINA – Al-Fatah Islamic Boarding School introduced planting with A Demonstration Plot or Demonstration Plot of organic farming at the Al-Fatah Islamic Boarding School, Pasirangin, Cileungsi, Bogor, West Java, in order to increase Human Resources (HR) engaged in agriculture.
Leader of the Jama'ah Muslimin (Hizbullah) Waqf Council, Syafril Lubis said on Saturday, special treatment is required in managing narrow land to make it productive, its sustainability can be maintained in a sustainable manner.
"The Demonstration Plot model can utilize narrow land to be productive, it also requires superior seeds because the land is limited, the yields are also quite good," said Syafril.
According to him, this is very helpful for residents who have limited land, to gain knowledge about farming using a demonstration plot model so that the estimated costs and production yields can be known.
Syafril invited the women to use the land at home for the demonstration plot. The cost of making a Demonstration Plot at the Al-Fatah Islamic Boarding School requires a 5 x 7 meter2 area, with a cost of 15 million.
Hydroponic Plants Cultivation of planting by utilizing water as a medium without using soil with an emphasis on fulfillment, farming with a hydroponic system because it is considered more effective and efficient.
This program can help business unit Islamic boarding schools and train students to be able to plant crops. The demonstration plot model can be developed in 24 days, we only need fertilizer, no vitamins, residents of Pasirangin can realize the hydroponic plant demonstration plot.
"God willing, we can provide hydroponic demonstration plot training. The first harvest of the hydroponic demonstration plot increases quality agricultural products to improve the welfare of the people," he continued.
The manager of the Al Fatah Islamic Boarding School Demonstration Plot, Cileungsi, Syamsuri said, in planting with the Demonstration Plot method, there are many things that must be considered, starting from who is obliged to participate when the demonstration plot takes place.
"One of the agricultural extension activities is by means of the demonstration plot system, where you can see the area survey. Making the first harvest with a hydroponic plant demonstration plot can produce 10 harvests," said Syamsuri.
He said, "we can take advantage of the narrow land the results can also be sold to housing residents who have a good market share".
The results of hydroponic vegetables are not easily wilted, healthier because they do not use pesticides or chemicals. (T/RE1)
Mi'raj News Agency (MINA)