Shaykh Mahmoud Anbar: Three Ways to Free Al-Aqsa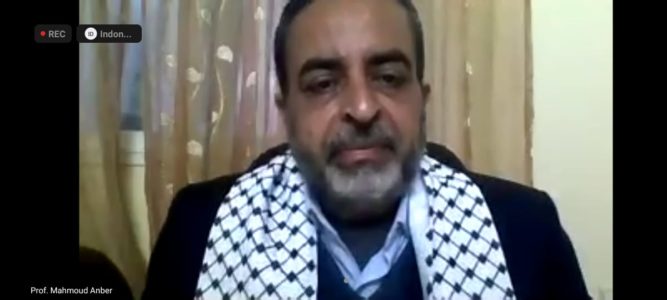 Cileungsi, Bogor, MINA – Shaykh Prof. Dr. Mahmoud Hasyim Anbar, Professor of Al-Quran and Interpretation of the Islamic University of Gaza, Palestine mentioned three ways to liberate Al-Aqsa Mosque and Palestinian independence.
"First, by helping Allah's religion. As long as Muslims struggle to help Allah's religion, Allah will help our rights, especially in liberating Al-Aqsa," said Shaykh Anbar, at the Tabligh Akbar 1444 at the Al-Fatah Pasiangin Islamic Boarding School, Cileungsi, Bogor, West Java on Sunday.
Second, he continued, by staying away from Muslim divisions, because divisions can weaken strength.
"Third, by uniting under the leadership of the Imam who unites the people and encourages them to work together to liberate Al-Aqsa and Palestinian independence," he added.
Shaykh Anbar said that the current condition of Palestine is getting more and more occupied, with the Israeli occupation increasingly aggressively destroying people's homes.
Including limiting the movement of citizens' activities, especially in the West Bank, through check points in several places.
"Not to mention the conditions in the prisons of occupation, especially the fate of women in Israeli prisons," he added.
Moreover, entering the holy month of Ramadan, the Jews will carry out celebration rituals. This will lead to clashes with young Palestinians who are ready to guard Al-Aqsa.
He emphasized the Muslims to continue to be together in the liberation of Al-Aqsa and the independence of Palestine.
Tabligh Akbar and the Sya'ban Festival 1444 H carry the theme, "Building the Ummah's Economy with the Spirit of Ramadan in Congregational Life Towards the Liberation of the Al-Aqsa Mosque".
This year's event contains various activities such as the UMKM Bazaar and Expo, Social Service, Blood Donation, Book Review and the top event, namely Tabligh Akbar Sya'ban 1444 H. (T/RE1)
Mi'raj News Agency (MINA)