First Harvest of Shuffah Al Fatah Hydroponic Demonstration Plot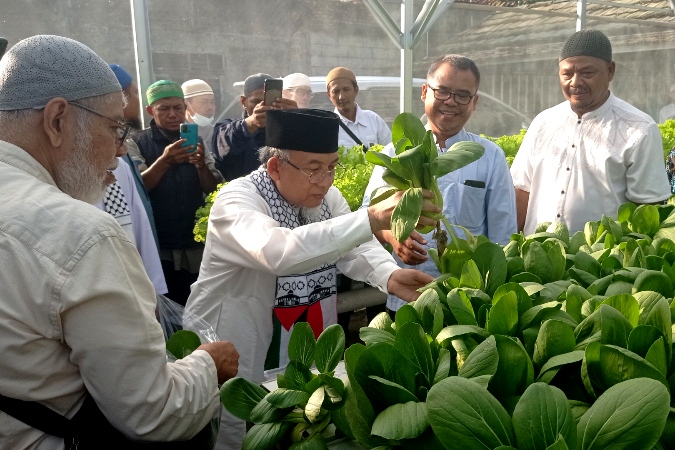 Imam Yakhsyallah Mansur harvested the first hydroponic demonstration plot at the Al-Fatah Pontren Pasirangin Cileungsi (Photo: Zaenal MINA)
Bogor, MINA – Imam Jamaah Muslimin (Hizbullah), Yakhsyallah Mansur invites Muslims to be able to realize food security. According to him, realizing food security is one of the obligations of the Islamic community.
This was conveyed during the first harvest of the Hydroponic Demonstration Plot in the Al-Fatah Pasirangin Islamic Boarding School (Pontren) environment, Cileungsi District, Bogor Regency on Sunday.
"The Islamic community has three obligations, first to worship Allah, second to realize food security and third to realize security, these are the contents of the Qur'an Surah Quraish," he said.
It is said, to be able to realize food security, Muslims should be able to utilize the land as much as possible. Even if the land is very limited, you can do it with the hydroponic method.
"This is one of them, limited land produces the first crop of hydroponic vegetables," said Imaam.
The first harvest of this hydroponic demonstration plot is the first step in efforts to develop sustainable agriculture in many places and strengthen food security for the people.
"We must continue to innovate in agricultural development so that we can produce sufficient and quality food for the people. I hope that farmers everywhere can participate in developing hydroponic farming to strengthen food security," said Imaam.
Hydroponic farming practitioners and consultants who accompany the Hydroponic Demonstration Program at the Al-Fatah Islamic Boarding School said that hydroponic vegetables are a modern farming technique that grows plants in water and nutrients contained in a special solution, without using soil as a planting medium.
"This method allows farmers to obtain yields that are faster, more numerous, and of higher quality, compared to conventional methods," he said.
According to Al-Fatah Hydroponic Advisor, Aji Sumantri, the development of hydroponic agriculture has enormous potential to strengthen food security. With this method, farmers can produce fresh and healthy vegetables all year round, regardless of season and weather.
"In addition, hydroponic techniques can save water and fertilizer use, and the results can be abundant with good quality so the price is also high," said Aji.
Meanwhile, Samsuri, as the executor of the Hydroponic Demonstration Program, revealed that it only takes 35 days to produce hydroponic vegetables such as watercress and pokcay.
"The process starts from seven days of seeding, then it is planted in the planting medium and after 28 days it can be harvested. So it only takes about 35 days to produce, "he said. (T/RE1)
Mi'raj News Agency (MINA)