JUST 6 MONTHS AFTER WAR, HAMAS SAYS GAZA BASES NEAR BORDER REBUILT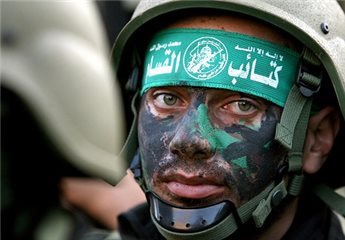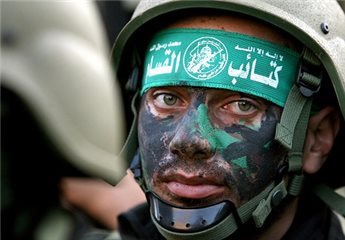 Gaza, 24 Jumadil Awwal 1436/15 March 2015 (MINA)–  The military wing of Hamas on Saturday said that it had rebuilt a number of military bases near the Israeli border in the Gaza Strip, asserting that it had recovered from Israel's summer offensive and was "not afraid" of confronting the occupation again.
"No sooner has the war come to an end, than the al-Qassam Brigades started a new stage of the conflict in preparation for the battle of liberation," a report on the official website of the Izz al-Din al-Qassam Brigades said, Ma'an News Agency quoted by Mi'raj Islamic  News Agency (MINA) as reporting.
The report said that fighters from the group had rebuilt military training sites near the border in the north, east, and west of the Gaza Strip, giving lie to Israeli claims that "Operation Protective Edge" in July-August 2014 had caused the group serious damage.
Israel's aim in the operation had been to end rocket fire from Gaza, which Hamas says comes in response to Israel's continued occupation of the West Bank and Gaza Strip.
But at the end of 50 days of warfare, Palestinian militant groups continued firing rockets into Israel. They also managed to confront Israeli forces in a number of battles across Gaza after the military launched a ground invasion.
The Palestinian military resistance left nearly 70 Israeli soldiers dead, the highest casualty rate for the force since Israel was forced to withdraw from Lebanon in 2006 during a partial land invasion targeting Hezbollah.
Hamas claimed victory at the end of the Israeli assault in August, even though the group suffered extensive losses in its military arsenal.
2,200 Palestinians died during the Israeli assault as well, the vast majority civilians. A few hundred Hamas fighters are also believed to be among the dead.
The report released by Hamas Saturday quoted a military official as saying that the group plans to continue military training near the border "without fear of the occupation's threats."
The official added that the training sites were being developed and enlarged so they could host all "the training the mujahedeen could need."
The report claimed that Israeli residents of communities on the other side of the the border had begun to "panic" as they could hear the sounds of missiles and explosions coming from the training sites.
"They complained about Hamas preparing for the coming war," the report said, quoting Israeli media outlets.
The main group of training sites are known as al-Yarmouk and are located east of the al-Shujaiyya neighborhood of Gaza City, an area that suffered heavy destruction during Israel's offensive.
The other site, the report said, is called "Palestine" and is located near the former Israeli settlement of Nisanit in the northern Gaza Strip.
The settlement was evacuated by Israel in 2005 during the Second Intifada, almost 40 years after Israel first occupied Gaza. (T/P010/R04)
Mi'raj Islamic News Agency (MINA)