WARRIOR'S WELCOME FOR ABBAS AT TURKISH PRESIDENTIAL PALACE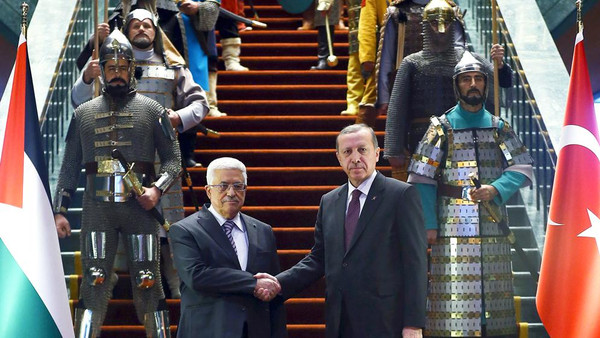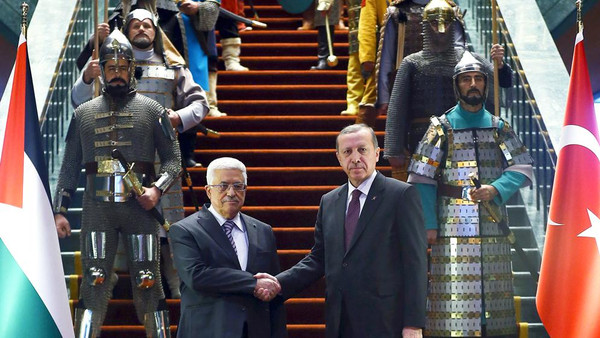 Ankara, 23 Rabi'ul Awwal 1436/14 January 2015 (MINA) – The Turkish President, Recep Tayyip Erdogan, has welcomed his Palestinian counterpart Mahmoud Abbas with a historical scene in a modern era, at the new presidential palace in Ankara.
As Abbas shook hands with Erdogan, the main staircase of the palace was occupied by 16 warriors dressed in historical armor, carrying spears, brandishing shields and clutching swords, International Islamic News Agency (IINA) quoted by Mi'raj Islamic News Agency (MINA) as repoting.
The official Anatolia news agency later explained that the 16 warriors each represented one of the empires of Turkish history, dating back to well before the Turkic conquest of Anatolia.
These range from the great Hunnic Empire founded around 200 BC though to the Seljuk empire, the Mughal empire, and right up to the Ottoman empire that was dissolved in the 1920s with the foundation of the modern Turkish republic.
These empires are also symbolized in the 16 stars of the official seal of the Turkish presidency that has been given a new prominence since Erdogan moved from the office of the prime minister after August's presidential elections.
Later in a joint press conference, both leaders discussed bilateral relations as well as the latest development.
The Turkish president said "The Palestinian issue is a bleeding wound for the human race"
On his part, President Abbas said " We are against every type of changing policy on Al-Aqsa mosque"
"Our greatest fear is that the existing conflict turns into a religious conflict, which we do not want at all", he added.
Commenting on the participation of Israeli PM Benjamin Netanyahu at Paris rally against terrorism, President Erdogan said "I find it very difficult to understand how he can go there after killing 2,500 people in Gaza through state terrorism." (T/P011/R03)
Mi'raj Islamic News Agency (MINA)