US MUSLIMS WANT ISLAMIC CLASSES BACK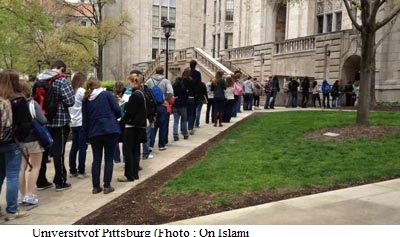 Washington, 9 Rajab 1435/8 May 2014 (MINA) – Seeing the cancellation of Islamic subjects as playing into the hands of stereotyping, a Muslim students group in the University of Pittsburg has launched a campaign to bring back the classes that offer students better insights about Islam.
"The Offer Islam Campaign requests that the University of Pittsburgh offer Islam in a curriculum that represents global citizenship, diversity and equity," the Muslim Student Association wrote in a petition that was cited by The Pett News on Tuesday, May 5.
"This petition requests that Islamic courses be offered in the history, anthropology, sociology and religious studies departments by spring 2015 [and that] two tenured track professors with Islamic history expertise be hired by fall of 2015."
The problem erupted last March after Pitt University announced the cancellation of four Islamic courses for the upcoming fall semester, OnIslam.net quoted by Mi'raj Islamic News Agency (MINA) as reporting.
The cancelled courses include, the Anthropology of Islam, the Sociology of Islam, Intro to Islamic Civilization and the History of the Ottoman Empire.
Announcing the decision, University Vice Chancellor said that the cancelled Islamic classes are categorized as special topic courses that are not "regularly offered each semester".
"From a broader point of view the University of Pittsburgh offers approximately 30 courses next fall (fall 2014) that focus on the Middle East region, an example of how the University of Pittsburgh is a leader in how Global Studies are incorporated into our curriculum," University Vice Chancellor of Communication Ken Service wrote in an email last month.
Alternative classes include Christian Muslim Relations, Islamic Art and Islam Politics and Britain from the history, art history and urban studies departments.
The alternative classes were not welcomed by MSA students who called for bringing back the original courses.
"[The available classes] don't fulfill what we are asking for by any means. They are supplemental," Laila Al-Soulaiman, a member of the MSA and a freshman majoring in political science, said.
Moreover, MSA students launched the "Offer Islam" campaign which led an online petition that has got more than 753 signatures until earlier this week.
Another paper version of the petition has gained more than 250 signatures until Monday, May 5.
Fighting Stereotypes
Opposing Islam courses cancellation, MSA argued that the classes were essential to defy negative stereotypes of Muslims in US.
"There's so many Muslims out there. There's a lot of misconceptions," Sherean Ali, a junior majoring in biology and member of the MSA, said.
"It will give students a different perspective on things portrayed in the media."
Similar views were echoed by Al-Soulaiman, the freshman of political science faculty.
"In this country, there's a lot of misinformation and, frankly, a lack of information regarding Islam and its basic teachings," Al-Soulaiman said.
"Muslims in this country face an uphill battle. But on principle, we should have these classes. It's one of the three largest monotheistic religions in the world."
Since the 9/11 attacks, US Muslims, estimated between 6-8 million, have complained of discrimination and stereotypes in the society because of their Islamic attires or identities.
A US survey has revealed that the majority of Americans know very little about Muslims and their faith.
A Gallup poll also found that the majority of US Muslims are patriot and loyal to their country and are optimistic about their future.
Al-Soulaiman asserted that offering Islamic courses are vital for the university's reputation.
"Being that those four classes are cut, now there's not a single class dedicated to Islamic thought or history and that's unacceptable for a world-class research university," she said.
Pitt's Muslim students, Al-Soulaiman and Ali, said that Islamic classes at Pitt has "strengthened their faith".
"I am a Muslim, and I am very open about my faith, and being in a community that is open and accepting and knowledgeable of my faith [is] important to me," Al-Soulaiman said.
Non Muslim students has also pointed to the importance of Islamic courses, they help them in fulfilling their academic career.
"If you look at basic statistics, it's the fastest-growing religion," Kara Kloss, who does not practice the Islamic faith but joined the campaign because she is studying international relations with a focus on the Middle East.
"It's a fifth of the people in the world. To exclude the understanding of a fifth of a people in the world is to understand the world a fifth less." (T/P012/E01)
Mi'raj Islamic News Agency (MINA)