US Muslims Hold Tarawih Prayers in New York's Times Square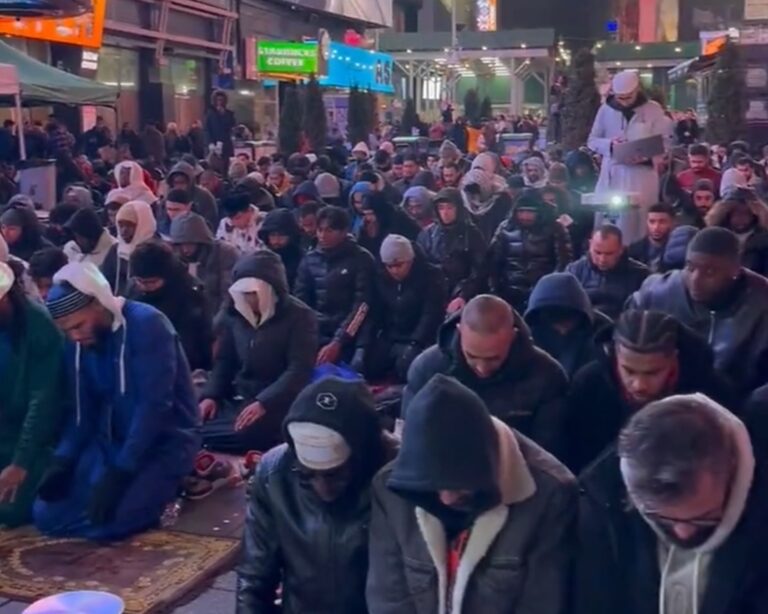 American Muslims perform Tarawih prayers in Times Square, New York, United States. (Photo: Twitter/@FatihSeferagic)
New York, MINA – Muslims in the United States (US) take advantage of the Ramadan moment to carry out da'wah to the world community, by holding Tarawih prayers in Times Square, Manhattan, New York, United States.
"Tarawih prayers are being held in the heart of New York City in Times Square, Manhattan, NYC. This is the city that never sleeps," said Fatih Seferagic, the Imam who leads the Tarawih prayers via his Twitter account @FatihSeferagic on Monday.
He said special thanks to the city of New York for facilitating, and providing the relevant permission to host such an event in the heart of the city.
"An extraordinary da'wah event that attracted thousands of visitors. Activities in downtown NYC began with breaking the fast, maghrib prayers, lectures and recitations. The event is a beautiful exhibition of the diversity and unity of New York City," said Fatih.
He added that this helps promote a positive image of Muslims and Islam to the wider community.
"It is through events like these that we can break down barriers, and foster greater understanding and tolerance between people of different faiths and backgrounds," he added.
In this activity, the committee distributed 1,500 meals for Muslims who gathered in Times Square.
This activity is also a recognition by the New York government amidst the rise of Islamophobia in Western countries. (T/RE1)
Mi'raj News Agency (MINA)