UN URGES DONORS TO FULFIL PLEDGES MADE FORE GAZA RECONSTRUCTION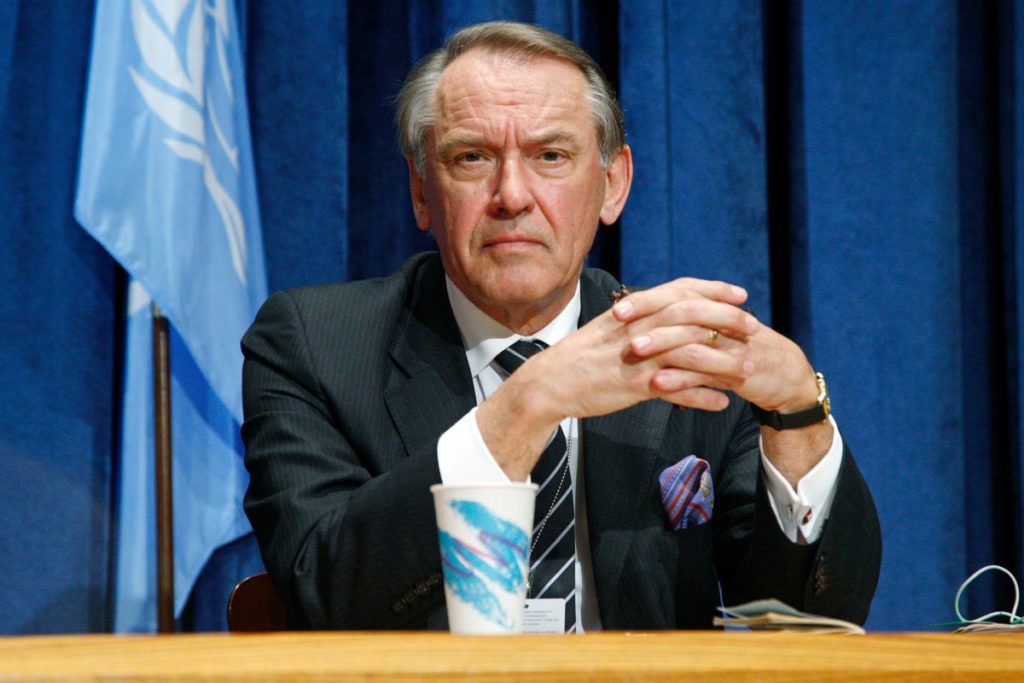 New York, 22 Rabu'ul Akhir 1436/12 February 2015 (MINA) – UN Deputy Secretary General Jan Eliasson called for donor countries to fulfil their pledges made for the "desolate" Gaza Strip, a UN statement said.
Eliasson was speaking in New York on behalf of UN Secretary General Ban Ki-moon at the opening of the 2015 session of the UN Committee on the Exercise of the Inalienable Rights of the Palestinian People, Middle East Monitor (MEMO) quoted by Mi'raj Islamic News Agency (MINA) as reporting, Thursday.
"Today, Gaza remains a desolate place under [Israeli] blockade and with much human suffering," Eliasson said. "I urge donors to fulfil pledges made at last October's Cairo Conference for the reconstruction of Gaza."
Israel has imposed a strict siege on the estimated 1.9 billion Palestinians living in the Gaza Strip since 2006, when the Palestinian Islamist movement Hamas won one of the most transparent general elections widely monitored by international bodies.
The siege increased in mid-2007, when Hamas controlled the Strip after about a year of security chaos by rival faction Fatah, which lost the elections.
Since then, Israel has waged three military incursions against the Strip that collectively have claimed the lives of around 4,000 Palestinians and wounded more than 15,000 others.
Tens of thousands of Palestinian houses were completely or partially damaged and thousands of Palestinians became homeless as a result of the three wars.
In October last year, in wake of the last and worst Israeli war on Gaza over the summer, an international donor conference held in Cairo raised $5.4 billion to aid the reconstruction effort – but almost all the pledges have not yet been fulfilled.
Regarding the situation in the West Bank and Jerusalem, Eliasson said that: "In 2014, violence also engulfed the West Bank, including East Jerusalem, and Israel. The levels of incitement and hostility in and around Haram al Sharif/Temple Mount rose to alarming levels."
Eliasson warned that such tension is "threatening to inflame religious tensions in the region."
He also regretted that both Palestinians and Israelis took unilateral measures following the fallout of the latest round of peace talks brokered by the US Secretary of State John Kerry.
"I regret that the parties have since taken unilateral steps that have deepened mutual distrust and distanced them from a prospect of negotiated settlement," said Eliasson.
"I urge both parties to refrain from any action that could further exacerbate the situation and to demonstrate the necessary leadership for reaching and implementing the difficult decisions that lie ahead," he added.
In addition to the Palestinians and the Israelis themselves, the official blamed the international community for the failure of the peace talks. "Together with the Israelis and the Palestinians, the international community holds the responsibility for what has been a collective failure to advance a political solution," he said.
He called for the United Nations system, the General Assembly, the Security Council, the Human Rights Council and other concerned Committees to work to revive negotiations for a two-state solution.(T/P008/R04)
Mi'raj Islamic News Agency (MINA)