TURKEY SUPPLIES WATER TO NORTHERN CYPRUS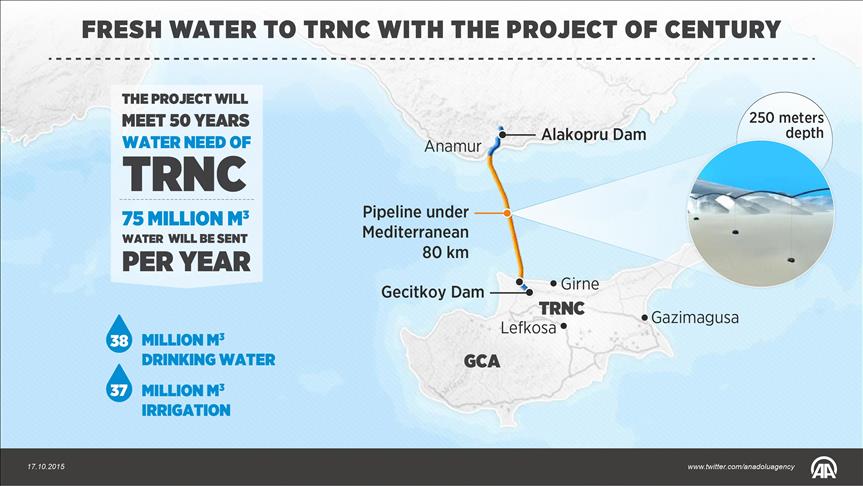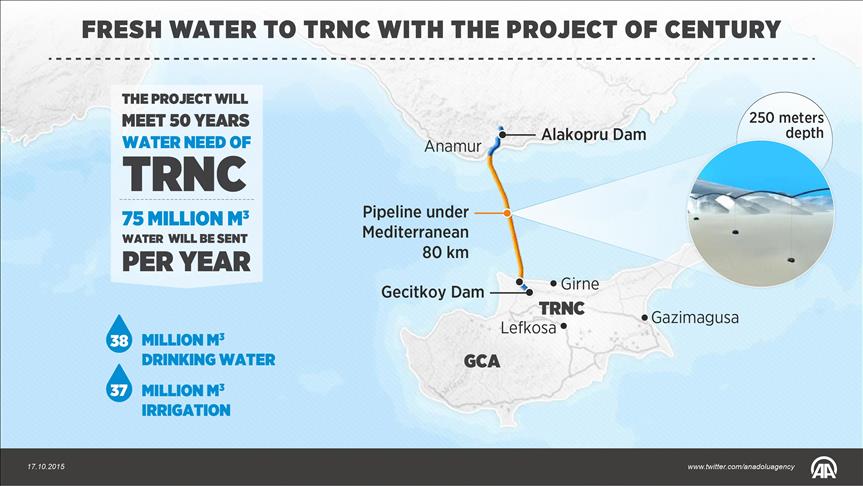 Mersin, Turkey,  4 Muharram 1437/17 October 2015 –  Turkey will supply 50 years worth of water to the Turkish Republic of Northern Cyprus (TRNC), said President Recep Tayyip Erdogan on Saturday.
Speaking at the opening ceremony of Alakopru Dam, which is part of a project that aims to carry fresh water from Turkey to the TRNC via a pipeline, Erdogan said: "The Turkish Republic of Northern Cyprus will no longer experience shortages of drinking water and agricultural irrigation for a half a century," Anadolu Agency quoted by Mi'raj Islamic News Agency (MINA) as reporting.
Turkey, as a benefactor and protector of the TRNC since its establishment in 1974, has long been planning to provide fresh water to the island, which lacks its own  resources. The project was officially launched in 2011 by Erdogan when he was prime minister.
Around 75 million cubic meters of water are expected to be sent to the Turkish Republic of Northern Cyprus from a dam in southern Turkey via a pipeline.
Speaking at the ceremony, Turkish Prime Minister Ahmet Davutoglu said that the project had cost 1.6 billion Turkish liras ($576.3 million).
"We built a magnificent water bridge. This time, we are linking Girne [also known as Kyrenia, city in Northern Cyprus] with Anatolia via water," said Davutoglu.
He also said the water will bring "peace" to the island.
Turkish Cypriot President Mustafa Akinci and Prime Minister Omer Kalyoncu were also in attendance.
"This will lead in a growth […] in the economy of the TRNC," said Akinci during his speech at the ceremony.
 "Today is a milestone. We have to use this water effectively," he added at another opening ceremony of another dam in Gecitkoy (also known as Panagra) on Saturday in Girne,
Erdogan called the project a "proud investment".
"If the South [Southern Cyprus] says 'We also want to utilize this water', we will carry them water, calling it peace water," said Erdogan.
The eastern Mediterranean island was divided into a Turkish Cypriot administration in the northern third and a Greek Cypriot one in the southern two-thirds after a 1974 military coup by Greece was followed by the intervention of Turkey as a guarantor power.
Long-stalled negotiations to find a way to settle the conflict resumed May 15.
Erdogan said Saturday Turkey has been "sincere" in finding a solution to the issue.
"No one can ignore this fact: that the Turkish Cypriots is the part that always wants fair, persistent and sustainable peace on the island," said Erdogan. (T/P010/R04)
Mi'raj Islamic News Agency (MINA)