TUNISIAN COALITION TO CRIMINALIZE NORMALIZATION WITH ISRAEL SEES THE DAY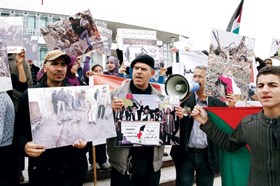 Tunis, 29 Jumadil Awwal 1436/20 March 2015 (MINA) – A consortium of Tunisian non-governmental anti-Israel parties and associations on Wednesday announced the establishment of the so-called Tunisian Coalition for Criminalizing Normalization and Fighting Zionism.
The coalition included such parties and organizations as the Tunisian League for Tolerance, Siraj, the People's Movement, the Unity Party, the National Committee against Normalization and Zionism, among other co-partners, The Palestinian Information Center (PIC) quoted by Mi'raj Islamic News Agency (MINA) as reporting.
Salah al-Din al-Masri, from the Tunisian League for Tolerance and a founding member of the new alliance, said in a press conference in the Tunisian Capital, Tunis: "The coalition is entirely independent and aims to organize anti-Israel activities."
"The Israeli occupation is the Tunisians' enemy, just as it is to other Arab states," he added.
He said the coalition is set to stage various activities, including rallies and sit-ins in front of the Tunisian parliament, to push for criminalizing normalization and filing lawsuits against any violations.
He said similar moves might be pursued in the Council of People's deputies.
"The outcome of the constitution is not completely negative when it comes to fighting Zionism. There has been a reference in the preface to the world's national liberation movements, most notably the Palestinian," he maintained, adding: "This is, in itself, a step that reinforces Palestinians' right to total independence."
The Tunisian activist further stated that the coalition will work on a resolution bid that would officially criminalize normalization and outlaw it as an act of treason.
Meanwhile, Belhassan al-Yahyawi, from the Unity Party, said: "Whoever dares to say that such initiatives are the least of Tunisia's concerns, because our people is overloaded with other burdens, is just mistaken. Tunisia's fight against normalization is also one of sovereignty."
The Tunisian Coalition for Criminalizing Normalization comprises 13 parties, institutions, and youth organizations. Membership is said to be open to any other potential partner as long as it shows total commitment to the alliance's agenda and underlying principles.(T/P008/R03)
Mi'raj Islamic News Agency (MINA)