Suu Kyi Breaks Silence, Calls Murdered Muslim Lawyer a 'Martyr' for Democracy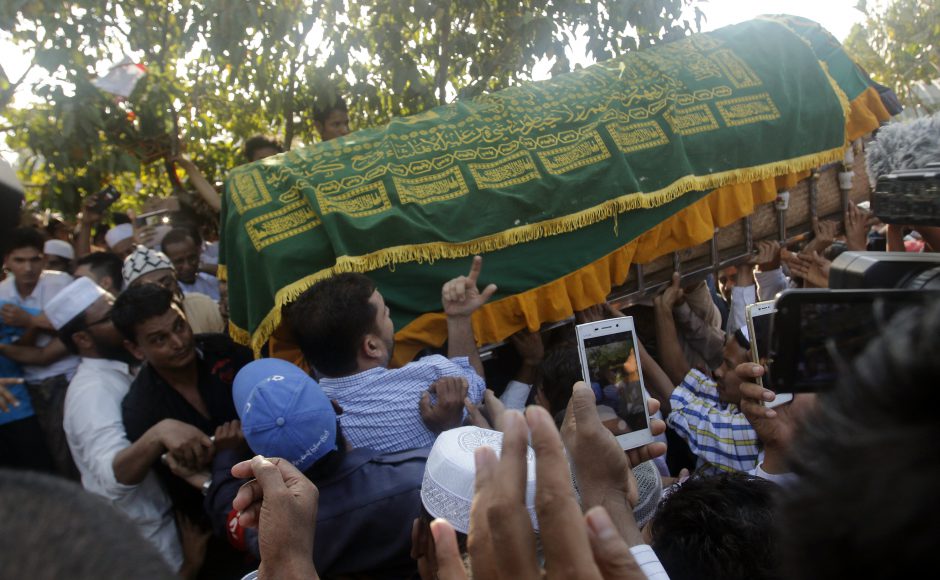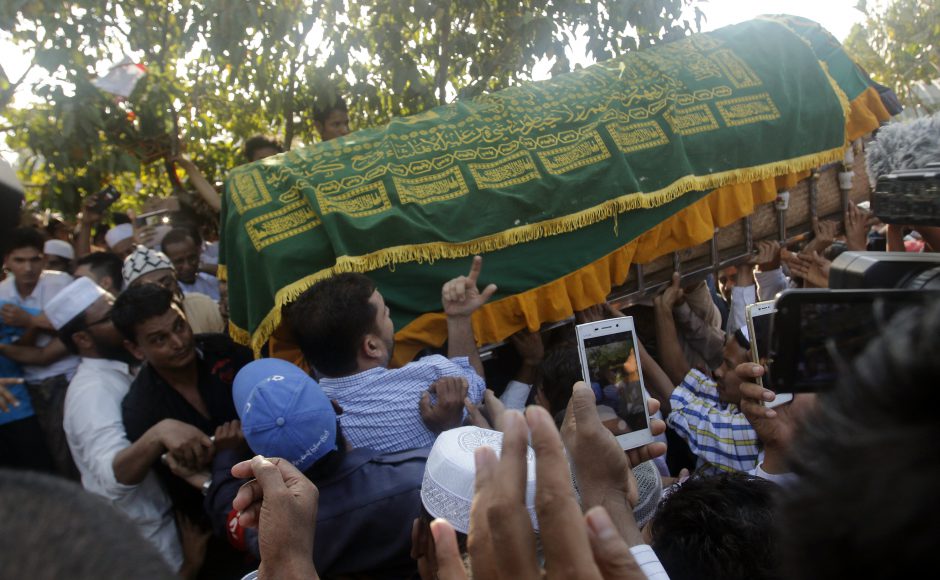 An estimated 15,000 to 20,000 mourners attended U Ko Ni's funeral at Yayway Cemetery.

Naypyidaw, 30 Jumadil Awwal 1438/27 Feebruary 2017 (MINA) – Myanmarese de facto leader Aung San Suu Kyi has broken her month-long silence on the assassination of her advisor and friend, calling him a "martyr" of the country's struggle for democracy.
U Ko Ni was a prominent Muslim lawyer and activist who had been a vocal critic of Burma's military and their remaining political influence. He was shot in the back of the head at point blank on Jan 29, 2017 outside Yangon airport after arriving from a trip to Indonesia.
Taxi driver, Ne Win, was also killed while trying to stop the gunman, who was arrested at the scene, asiancorrespondent.com. reported.
Suu Kyi has so far remained silent following the death of her close friend but, speaking at a memorial service for the two victims, she expressed the "great loss" that the party had suffered.
"Losing U Ko Ni is a great loss for our NLD (National League of Democracy). He worked together with us for many years through his beliefs," she said, as reported by AFP (via Mizzima).
Ko Ni was a respected constitutional expert and prominent critic of the Burmese military's involvement in the political process.
As a prominent member of Burma's Muslim minority, Ko Ni was vocal in his condemnation of rising Islamophobia in the country. His opposition and criticism often made him the target of threats against his life.
"My father was often threatened and we were warned to be careful, but my father didn't accept that easily. He always did what he thought was right," Ko Ni's daughter Yin Nwe Khine said following the shooting.
Myanmar's Home Affairs Minister Kyaw Swe speaks to the media during a news conference regarding the killing of Ko Ni, a lawyer advising the ruling National League for Democracy (NLD) party, in Yangon, Myanmar February 25, 2017. Source: Reuters/Soe Zeya Tun
On Feb 25, Burmese officials announced the findings to their month-long investigation into the death and determined that the motivation behind the killing was "extreme patriotism."
"When we were investigating, we discovered it was a case of patriotism. This extreme patriotism … killed [U Ko Ni], according to our findings," Home Affairs Minister Lt. Gen. Kyaw Swe said, as quoted by Frontier Myanmar.
Suu Kyi did appeal for patience
Suu Kyi very rarely makes public appearances, but her silence on the matter had surprised some observers and fed the opinion that her administration has taken a bunker mentality since taking office back in May.
The de facto leader is seldom seen making speeches or releasing statements and has remained quiet as the country faces a series of crises, including clashes between the military and ethnic rebels in the northern states, and alleged "crimes against humanity" and ethnic cleansing towards the Muslim Rohingya minority in Rakhine province.
There was no mention of politics at the Sunday memorial service but Suu Kyi did appeal for patience and asked that people allow her administration the time to make the political and humanitarian inroads they have promised.
"Our citizens who have been struggling hard for many decades may think it's a very long time. But for the history of a country, for the history of a government, 10 months or one year is not much. This is just a short period," she said. T/RS05/RS01)
Mi'raj Islamic News Agency (MINA)

OIC welcomes resumption of Syrian talks in Geneva
JEDDAH, 25th February, 2017 (WAM) — The Organisation of Islamic Cooperation (OIC) welcomed the resumption of the Syrian talks in Geneva under the auspices of the United Nations.
The OIC expressed hope that these talks would lead to positive and constructive results that could contribute to the immediate settlement of the Syrian crisi