Probe into P200 Million Philippine Hajj Passport Scam Sought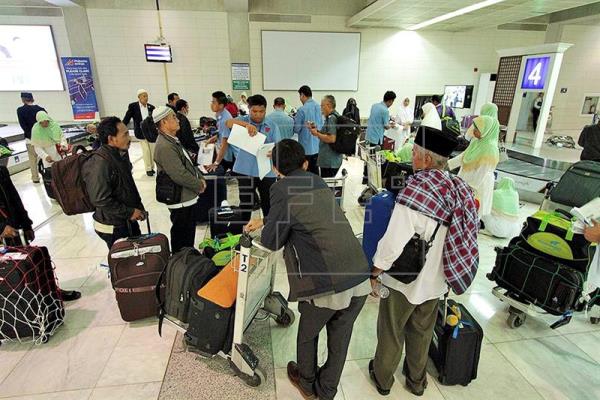 Manila, Philippines, 27 Dzulqa'dah 1437/30 August 2016 (MINA) – A P200-million anomaly is allegedly behind the recent arrest of 210 Indonesian and Malaysian pilgrims found with fraudulently obtained Philippine hajj passports for a flight to Mecca, employees of the National Commission on Muslim Filipinos (NCMF) said.
In a letter to President Duterte dated July 25, NCMF employees reported that five NCMF executives and an officer from the Department of Foreign Affairs' consular office allegedly conspired with eight hajj leaders for the use of Philippine passports.
The NCMF employees also reported that such anomaly had been "rampant since the administration of Secretary Yasmin Lao" and that each Philippine hajj passport was sold to foreigners for P25,000.
The Saudi Ministry of Hajj limits the number of pilgrims per country. The quota for the Philippines is 8,000 pilgrims. With each haji passport sold at P25,000, the proceeds can reach up to P200 million or USD 4.3 millon.
The NCMF employees complained that because hajj passports are being issued to foreigners, this deprives Filipino-Muslims of the opportunity to be part of the mandatory annual pilgrimage to the holy city of Mecca in Saudi Arabia.
NCMF employees also bared that in 2015, an Indonesian used a Philippine hajj passport and then "died in Jeddah." The Indonesian embassy in Saudi Arabia rescued its citizen, but authorities later learned he was using a Philippine passport.
"Let the concerned agencies investigate this anomaly," NCMF employees said.
The NCMF is under the Office of the President.

Undermine national security
Muslim lawmaker Zajid Mangudadatu of Maguindanao filed House Resolution 258, which calls for an investigation into the anomaly.
He said the House committee on foreign affairs should investigate, in aid of legislation, how the Indonesians managed to obtain Philippine passports to attend hajj pilgrimage in Mecca, Saudi Arabia in the second week of September.
"The indiscriminate act of granting Philippine passports to non-Filipino nationals is a violation of Republic Act 8239, or the Philippines Passport Act of 1996. The government officials involved must be dealt with accordingly," he added.
Sen. Nancy Binay yesterday also called for an investigation into the alleged scam in the issuance of Philippine hajj passports to foreigners.
Binay said the fraudulent processing and issuance of hajj passports to non-Filipinos "undermines national security" and exposes the Philippines to increasing risk of terrorism.
"It is imperative for the Senate to conduct an investigation on the alleged involvement of government officials and employees in this corrupt practice," she added.
In 2013, the Bureau of Immigration uncovered the racket of a Mindanao-based syndicate providing foreigners with Philippine passports after intercepting 22 Indonesians in Tawi-Tawi.
The Indonesians claimed that they wanted to acquire Philippine passports from the syndicate so they could avail themselves of the quota for the Mecca pilgrimage allotted to the Philippines. – to the Armed Forces to deal decisively with the terrorists and the Abu Sayyaf group and the need to instill and promote moderation to counter extremism," he said. (T/R07/R01)
Mi'raj Islamic News Agency (MINA)