SAUDI MILITARY BUILDUP AT BORDER WITH YEMEN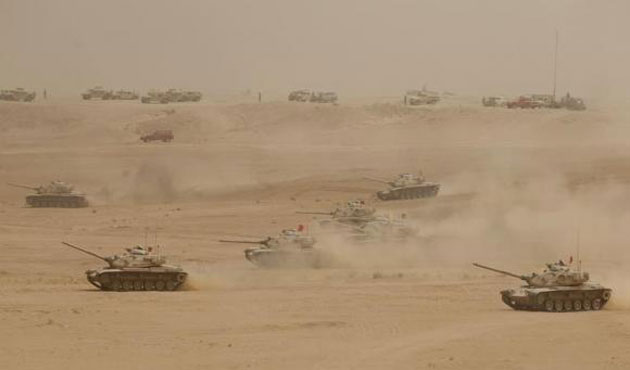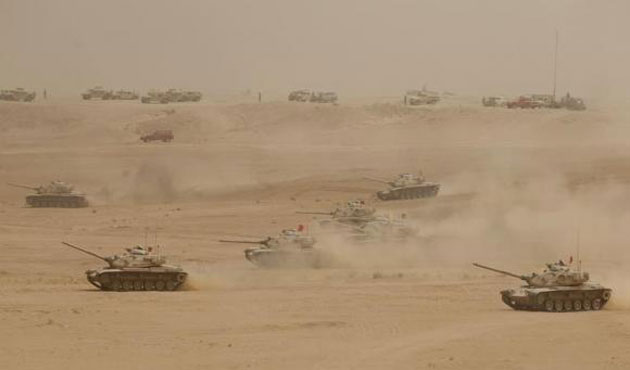 San'a, 7 Jumadil Akhir 1436/27 March 2015 (MINA) – U.S. officials said on Tuesday, Saudi Arabia is moving heavy military equipment including artillery to areas near its border with Yemen, raising the risk that the Middle East's top oil power will be drawn into the worsening Yemeni conflict.
The buildup follows a southward advance by Iranian-backed Houthis who took control of the capital Sanaa in September and seized the central city of Taiz at the weekend as they move closer to the new southern base of U.S.-supported President Abd-Rabbu Mansour Hadi.
The slide towards war in Yemen has made the country a crucial front in Saudi Arabia's region-wide rivalry with Iran, which Riyadh accuses of sowing sectarian strife through its support for the Houthis, World Bulletin quoted by Mi'raj Islamic News Agency (MINA) as reporting.
The armour and artillery being moved by Saudi Arabia could be used for offensive or defensive purposes, two U.S. government sources said. Two other U.S. officials said the build-up appeared to be defensive.
One U.S. government source described the size of the Saudi buildup on Yemen's border as "significant" and said the Saudis could be preparing air strikes to defend Hadi if the Houthis attack his refuge in the southern seaport of Aden.
Another U.S. official, speaking on condition of anonymity, said Washington had acquired intelligence about the Saudi build-up. But there was no immediate word on the precise location near the border or the exact size of the force deployed.
Hadi, who supported Washington's campaign of deadly drone strikes on a powerful al Qaeda branch based in Yemen, has been holed up in Aden with his loyalist forces since he fled Sanaa in February. On Tuesday, forces loyal to Hadi drove Houthi fighters from two towns they had seized hours earlier, residents said, apparently checking an advance by the Shi'ite fighters towards Aden.
Saudis Deeply Concerned
Saudi Arabia faces the risk of the turmoil spilling across its porous 1,800 km (1,100 mile)-long border with Yemen and into its Shi'ite Eastern Province where the kingdom's richest oil deposits lie.
"The Saudis are just really deeply concerned about what they see as an Iranian stronghold in a failed state along their border," U.S. Ambassador to Yemen Matthew Tueller told Reuters on Monday at a conference hosted by the National U.S.-Arab Chamber of Commerce in Washington.
But a former senior U.S. official, speaking to Reuters on condition of anonymity, said the prospects for successful external intervention in Yemen appeared slim. He said Hadi's prospects appeared to be worsening and that for now he was "pretty well pinned down."
Riyadh hosted top-level talks with Gulf Arab neighbours on Saturday that backed Hadi as Yemen's legitimate president and offered "all efforts" to preserve the country's stability.
Saudi Foreign Minister Saud al-Faisal said on Monday Arab countries would take necessary measures to protect the region against "aggression" by the Houthi movement if a peaceful solution could not be found. (T/P011/P3)
Mi'raj Islamic News Agency (MINA)