Quarter of a Million Muslims Attend Third Friday of Ramadan Prayer in Jerusalem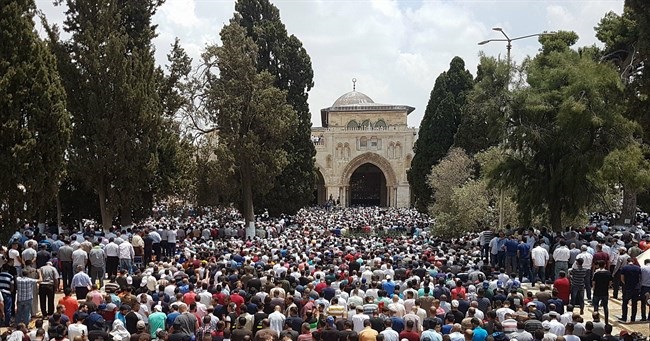 Jerusalem, MINA — An estimated 250,000 Muslims from all over Palestine attended the third Friday of the holy fast month of Ramadan prayer at Jerusalem's Al-Aqsa Mosque, WAFA reported, ciiting officials from the Muslim Endowment (Waqf) Department.
The number of Friday worshippers has been on the rise since the start of Ramadan and is expected to significantly increase next Friday, most likely will be the last Friday of Ramadan.
Worshippers filled the mosques and the open air plaza of Al-Haram Al-Sharif (the Noble Sanctuary), the third holiest site in Islam that houses Al-Aqsa Mosque and the golden Dome of the Rock in addition to many other mosques of various sizes and capacities.
Palestinians from the West Bank started arriving in Jerusalem since the early hours heading toward Al-Aqsa Mosque, an opportunity they get only during Ramadan when Israel, the occupying power, relaxes the heavy restrictions it imposes during the year on entry of West Bank Palestinians into occupied Jerusalem.
Tens of thousands of Palestinians anxious to attend the Ramadan prayer in Jerusalem filled the Israeli military checkpoints around Jerusalem as they were checked by soldiers before they were allowed to pass through on their way to the holy city.
Many who were not allowed through the checkpoints, mainly young males, attempted to jump over the eight-meter high concrete wall Israel had built around Jerusalem since the beginning of the century to separate it from its neighboring Palestinian communities risking falling or being shot or detained by Israeli soldiers and border guards. (T/RS5/RS1)
Mi'raj Islamic News Agency (MINA)