Only Unity of Ummah to Free Al-Aqsa: Zakir Naik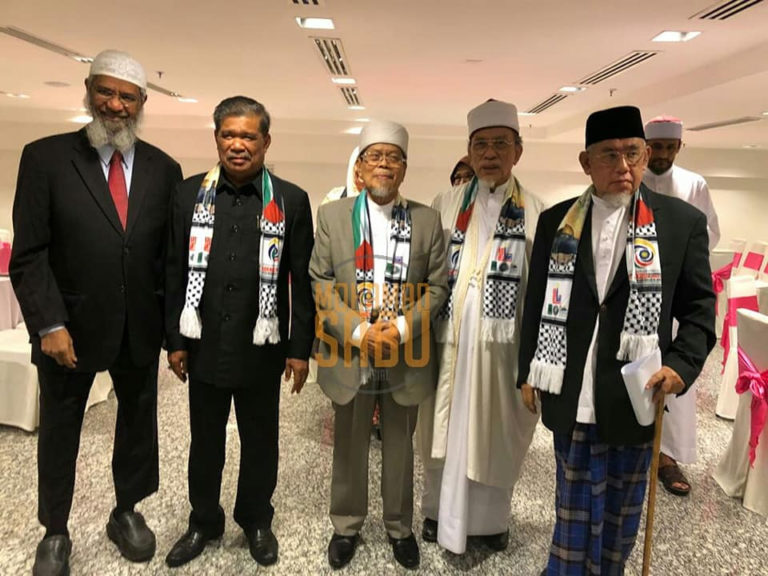 Dr. Zakir Naik (far left) poses with Malaysian Defense Minister Mohamad Sabu (two from the left) at the Baitu Conference; Maqdis and Al-Aqsa in Putrajaya, Malaysia, Saturday, March 23, 2019. (Photo: Mohamad Sabu)
Putrajaya, MINA – Indian preacher, Dr. Zakir Abdul Karim Naik, was given a special time to deliever public lecture at International Conference "ASEAN Plus NGOs Conference in Defense of Baitul Maqdis and Masjid Al-Aqsa", he stressed that only the unity of ummah could free Al-Aqsa Mosque.
The event was officially opened by Malaysian Defense Minister, Mohamad Sabu representing the Prime Minister Tun Dr. Mahathir Mohamed at the Jakim Auditorium of the Islamic Complex Putrajaya, Malaysia on Saturday.
In his short lecture, Dr. Zakir Naik explained the importance of Al-Aqsa Mosque for Muslims as the first qibla of Muslims, also the place of Isra and Mi'raj of Prophet Muhammad. He quoted Al-Qur'an, surah Al-Isra verse 1 and several other surah completely .
He also quoted a number of hadiths that were completed by mentioning sanad (narrators) and numbers. Like the Prophet's words, Muslims were not encouraged to travel except to three places, those are the Grand Mosque, the Nabawi Mosque and the Al-Aqsa Mosque.
"Today, as we know that Al-Aqsa Mosque and Palestine are being colonized by Zionist Israel, Muslims cannot do anything, they are killed, their land is taken away. Muslims cannot do anything before they unite in congregation, "he said while quoting Al-Quran Surat Ali Imran verse 103.
Dr. Zakir Naik who has contributed a lot to Islamic world when many become wary through his lectures. Now, he lives in Malaysia after his country considers himself as a terrorist and threats him with arrest.
Malaysian government gave a permanent resident to Dr. Zakir Naik, living in Malaysia as long as he wanted.
A two-day conference held by NGOs at ASEAN level with the theme "Together Defending Al-Quds and Al-Aqsa Mosque".
The speakers were present from various intellectuals and international scholars from Malaysia, Turkey, Jordan, Palestine and Indonesia.
Especially from Indonesia, Imaamul Muslimin  Yakhsyallah Mansur will deliever a speech entitled: "The Role of Ulama in Defending Al-Aqsa Mosque".
The event also invited several NGOs that focused on Palestine and Al-Aqsa, including Al-Aqsa Working Group (AWG) based in Indonesia.
In recent weeks, tensions at Al-Aqsa Mosque Complex increased after Israeli Jewish authorities made several complex gates closures, banned Muslim worshipers, and arrested Palestinian clerics and residents. (T/Sj/P2)
Mi'raj News Agency (MINA)