Moving US Embassy to Al Quds against International Consensus, Says Mogherini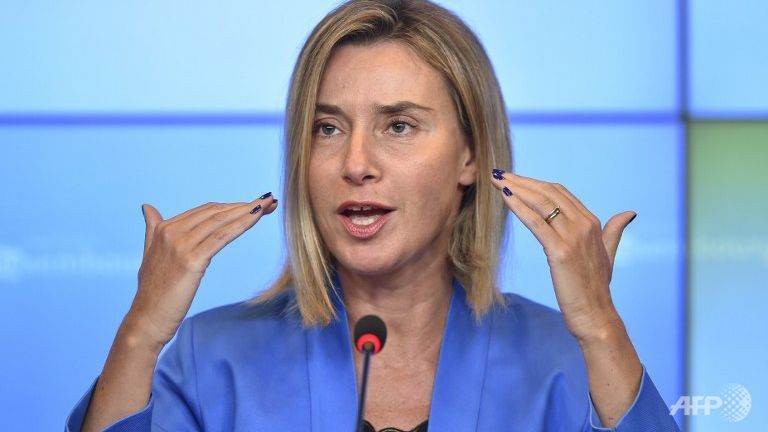 EU High Representative Federica Mogherini..
Brussels, 18 Rabiul Akhir 1438/17 January 2017 (MINA) – EU High Representative Federica Mogherini expressed concern Monday over the declared intention of US President-elect Donald Trump to move the US embassy from Tel Aviv to Al-Quds (Jerusalem).
"For sure I am worried that not only institutions but public opinion in large parts of the world, Arab world, Africa, Asia and parts of Europe could have in reaction to a move that for sure would not be in line with the international consensus embodied in the UN Security Resolutions," KUNA quoted Mogherini as telling a press conference after a meeting of EU foreign ministers in Brussels this evening.
She noted that the ministers discussed the Middle East peace process.
Building on the outcome of the international conference held in Paris on 15 January, ministers discussed ways to achieve a comprehensive peace deal, preserve viability of the two-state solution and reverse on-going negative trends on the ground, she said.
Mogherini said the EU Foreign Affairs Council also discussed developments in Syria, for the first time since an agreement for cessation of hostilities was announced.
In their discussion, EU ministers welcomed the agreement brokered and guaranteed by Russia and Turkey.
Mogherini said the Council also reiterated its support to the EU regional initiative on the future of Syria.
She briefed ministers on the latest round of talks conducted in this framework with key regional players: Egypt, Iran, Jordan, Lebanon, the United Arab Emirates, Saudi Arabia and soon Turkey and Qatar
Intra-Syrian talks
Meanwhile, the Council in a statement said the Ministers reaffirmed the EU full support to the UN-led process and to the UN Special Envoy Staffan de Mistura.
They noted that the meeting foreseen in Astana on 23 January, if fully inclusive, could contribute to a successful resumption of intra-Syrian talks in Geneva under UN auspices, foreseen on 8 February 2017.
The Council agreed that the EU will host a conference on Syria and the region in Brussels in Spring 2017, as a follow-up to the London conference held in February 2016.
This was the first EU ministerial meeting to take place in the new Europa building, which this January became the main seat to hold summit meetings of EU leaders and also the Council of Ministers of the EU. (T/RS05/RS01)
Mi'raj Islamic News Agency (MINA)