MINISTRY OF HEALTH: "2145 PALESTINIANS, INCLUDING 578 CHILDREN, KILLED IN ISRAEL'S AGGRESSION"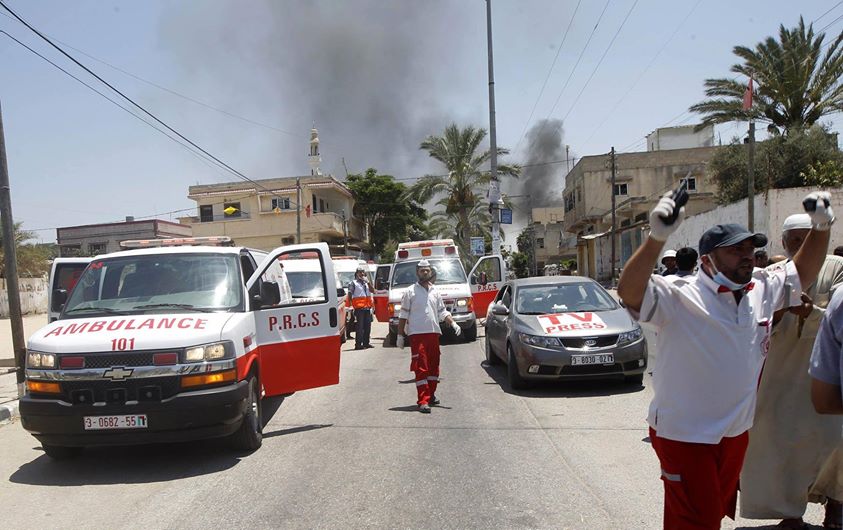 Gaza, 2 Dzulqa'dah 1435/28 August 2014 (MINA) – The Palestinian Ministry of Health in Gaza issued a report stating that Israeli missiles and shells, fired against the Palestinian population of Gaza since July 8, led to the death of 2145 Palestinians, including 578 children, 263 women, and 102 elderly.
It said around 11100, including 3374 children, 2088 women and 410 elderly, have been injured, International Middle East Media Agency (IMEMC) quoted by Mi'raj Islamic News Agency (MINA) as reporting.
As Israeli aggression on Gaza enters its 50th day on Tuesday, at least two Palestinians were killed after an Israeli warplane targeted a group of people at an-Nafaq Street north of Gaza City. The fatalities were identified as Mohammad Abu Ajwa and Hassan al-Sawaf.
The Ministry said the army targeted entire families in the coastal region, killing members of 100 families in Gaza, wiping out entire families.
The majority of Palestinians killed and injured by Israeli missiles and shells are civilians, including infants, children, teenagers, women and elderly, in addition to rescue operators, medics and journalists.
17 Journalists Killed in Gaza Since Beginning of Israeli Aggression
Palestinian journalist Abdullah Fadel Moratja was killed, Monday evening, by Israeli shelling on citizens' houses in the area of al-Shejaia, east of Gaza City. The Ministry of Information now states that the death toll of journalists has risen to 17, since the beginning of the most recent Israeli military offensive against Gaza, in early July.
According to Al Ray Palestinian Media Agency, the Ministry called upon the International Community and other interested parties to step up in taking serious actions in stopping Israel's systematic attacks against journalists.
Al Ray has provided a list of names of journalists who were killed by Israeli attacks, as reported by the Ministry of Information:
1. Hamid Abdullah Shehab – "Media 24″company.
2. Najla Mahmoud Haj – media activist.
3 Khalid Hamad – the "Kontnao" Media Production company.
4. Ziad Abdul Rahman Abu Hin – al-Ketab satellite channel.
5. Ezzat Duheir – Prisoners Radio.
6. Bahauddin Gharib – Palestine TV.
7 Ahed Zaqqout – veteran sports journalist.
8 Ryan Rami – Palestinian Media Network.
9 Sameh Al-Arian – Al-Aqsa TV.
10 Mohammed Daher – Editor in al-Resala paper.
11. Abdullah Vhjan – sports journalist.
12 journalist Khaled Hamada Mqat- Director of Saja news website.
13. freelance journalist Shadi Hamdi Ayyad.
14 photojournalist Mohammed Nur al-Din al-Dairi – works in the Palestinian Network.
15. journalist Ali Abu Afesh – Doha Center for Media.
16 Italian journalist Simone Camille – photographer in the Associated Press.
17. Abdullah fadel Murtaja.
The Ministry stated Israel deliberately targeted 15671 Palestinian homes, destroying and flattening 2276 homes, and causing partial damage to 13395 homes, rendering them uninhabitable, while thousands of homes sustained partial damage.
It added that Israeli missiles and shells have killed 23 medical workers, while 83 others have been injured.
In addition, Israeli missiles targeted 190 mosques in different parts of the Gaza Strip, flattening and destroying 70 mosques, while 120 sustained partial damage, the Ministry of Waqf and Religious Affairs said.
The Israeli army also fired missiles into 143 schools, including UNRWA-run schools, destroying 24 of them, the Ministry of Education said.
Dozens of residents have been killed and injured during Israeli bombardment of schools, where the residents sought shelter.
Around 500.000 Palestinians had to leave their homes, mostly because they were bombarded, many sought shelter in homes of relatives in areas of lesser bombardment in the Gaza Strip, and more than 200.000 of them sought shelter in UNRWA schools, and governmental schools.(T/P02/P3)
Mi'raj Islamic News Agency (MINA)