MASS MEDIA 'BEG' EGYPTIANS TO PARTICIPATE IN ELECTION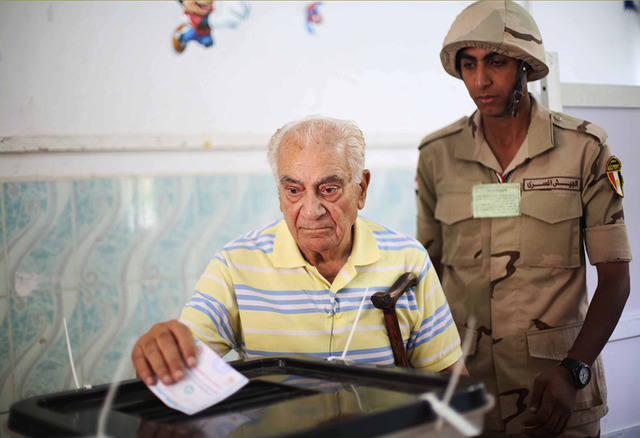 Cairo, 29 Rajab 1435/28 May 2014 (MINA) – Egyptian mass media rebuked the Egyptian people on Tuesday for not going out to cast their votes in the presidential election that coup leader Abdul-Fatah Al-Sisi is largely expected to win.
A number of famous newscasters and show presenters called for punishing anyone who does not take part in the elections; some called for prosecuting them and others described them as traitors, Middle East Monitor (MEMO) quoted by Mi'raj Islamic News Agency (MINA) as reporting.
In the wake of the military coup against Egypt's first freely elected President Mohamed Morsi on 3 July 2013, nearly all the Egyptian mass media opposed to the coup was shut down. The offices of foreign media critical of the coup were closed and correspondents were arrested.
The military-backed government extended the presidential vote for a third day because of the extremely weak turnout, this coming even after the second day of voting was declared a national holiday in order to give the chance to employees to cast their votes.
In response, the well-known television presenter Tawfiq Okasheh asked: "What shall I do to make you turn out? Shall I kiss your foot? What do you want me to do? Take off my clothes and go on air naked in order for you to trust me [that voting is important]?"
"I will ask [the government] to cut electricity," he went on, "in order to stop the air conditioners, forcing you to go out of your homes and take to the streets [to vote]."
The female show presenter and broadcaster Lamis Al-Hadidi lamented that Egypt needs a higher rate of votes in order to tell the world that electing Al-Sisi is the will of the people.
Mostafa Al-Bakri, another famous television commentator, urgently called upon Egyptians to cast their votes in order to give Al-Sisi strong power. "Anybody who does not vote is giving the kiss of life to the terrorists," he threatened. "Those who do not come out are traitors, traitors, traitors who are selling out this country."
According to Reuters, several journalists echoed this message that voters are carrying out their national duty to protect the country from the threats of the Muslim Brotherhood.
Two Egyptian channels announced that anyone who does not vote would be fined and they would be turned over to the public prosecutors, who will take the legal measures against them.
The Palestinian newspaper Al-Quds noted that the Egyptian mass media are obliged to incite people to take part in the elections because of the very weak turnout rate. Some have reported that a number of voting centres were completely empty during the past two days.
Pro-coup Egyptian mass media applauded Al-Sisi's coup, as well as his roadmap announced in the wake of the ouster of President Morsi, whose Muslim Brotherhood was designated a terrorist organisation by Al-Sisi's regime.
The media carried out mass propaganda campaigns to persuade Egyptians that Morsi and his Islamist group are terrorists, and that Al-Sisi came to save the country from terrorism.(T/P03/E01)
Mi'raj Islamic News Agency (MINA)