MASJID ALLAHU AKBAR : 20 YEARS OF COMMUNITY BUILDING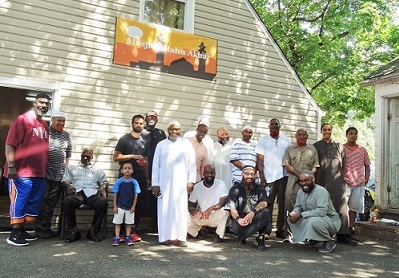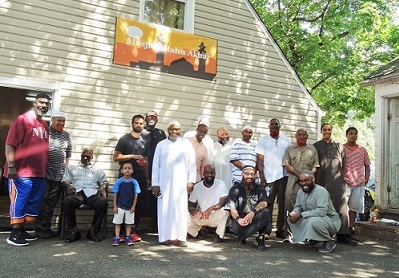 Long Island, NY, 1 Dzulqa'dah 1436/16 August 2015 (MINA)– While many mosques fall victim to vandalism attacks, Masjid Allahu Akbar in Wyandanch, NY, sets an example of 20 years of success in developing congenial relationships with their non-Muslim neighbors, building a community based on respect and understanding.
"We have been here longer than most of our neighbors," Imam Al-Amin Abdul-Latif, the community leader, told OnIslam.net. OnIslam quoted by Mi'raj Islamic News Agency (MINA) as reporting.
"We live on this property. We live around the mosque. We are the face of the community. We feed the neighbors' kids. They know we are Muslim and they know we are peaceful people and they respect our Islam.
"We have a good relationship with our neighbors. This is a mixed community of African-Americans, Hispanics, and European Americans. The people are very respectful," he added.
The Masjid [mosque] dream started 20 years ago as a result of endeavors by members of the Muslim communities in Masjid Al-Mu'mineen in Brooklyn and Masjid al-Mustaqeem in Wyandanch to unite under one cohesive community named Masjid Allahu Akbar.
Al-Amin credits his friend and colleague, Shaikh Inshirah Abdel-Jaleel, who served as imam of Masjid al-Mustaqeem, with having a significant role in the establishment of Masjid Allahu Akbar by facilitating the merging of the two communities.
"We had an economic component, to enable people to buy housing to live around the masjid, so we have neighborhood and community. It entailed developing businesses, educational institutions, and whatever was needed in the community," explained Al-Amin,
The members of Masjid Allahu Akbar planned more than a place of worship, developing a variety of sub-projects, collectively named Project Allahu Akbar, to benefit all Wyandanch residents.
"The concept was building a community not just a masjid, but to provide all of the educational, financial, and cultural components to build a strong vibrant community." Al-Amin added, referring to social outreach to the local community as part of the vision of Project Allahu Akbar.
Till today, the members of Allahu Akbar mosque have succeeded in launching several programs including hosting visiting scholars from Madinah, educational seminars, interfaith dialogues, prison outreach, weekend schools, and da`wah programs.
In addition, the masjid also organized summer camps, backpack giveaways, glove giveaways, homeless feeding programs, and a summer breakfast/lunch program for all the children in Wyandanch.
Native American Muslims
Having a substantial African-American Muslim membership, Masjid Allahu Akbar is following the model characteristic of many African-American Muslim communities, which recognizes the importance of having a house of worship and servicing the needs of the people.
Presently, Muslims in the community use a converted two-story garage as the masjid.
"We took this garage and turned it into our masjid. We don't have the space for `Eid and sometimes Jum`ah," Al-Amin said.
The rest of the 1-acre property includes a home where Imam Al-Amin resides, a playground, and now the new and larger masjid under construction.
Community member Sabbah Abdul-Latif noted the importance of the new facility.
"We need a stable, legitimate building to worship in and we also need to give a positive image of Islam to our neighbors," Sabbah told OnIslam.net.
Although the new facility is only approximately 4,000 square feet, Al-Amin explained that it is enough to service the small community of Muslims with room for expansion.
"It was structured in a way to accommodate a few hundred people," Al-Amin elaborate.
"As the masjid grows, we can go up. We can go up a story, or we can go out."
Despite its size, the new masjid is essential to providing a comfortable place for the Muslims in Wyandanch to worship, engage in community-building activities, and foster a sense of Islamic brotherhood.
Yusuf Abdul-Latif, a Bay Shore, NY resident, travels to Wyandanch with his family to participate in Masjid Allahu Akbar's faith and community activities. Abdul-Latif clarified why he travels to Wyandanch even though there is a masjid, closer to him.
"First of all, this is where I accepted Islam. So, this is my foundation where I learned my Islam," said Abdul-Latif.
"I learned how to read Arabic, and this is where basically people who I am close with come from."
Abdul-Latif, who is a Euro-American convert, further described how many native-born American Muslims feel unwelcome when interacting with immigrant Muslim populations and may opt to attend a masjid with a larger native-born American demographic.
"They don't feel as comfortable in the predominant immigrant communities because they are not made to feel that welcome," said Abdul-Latif.
"What happens is many of them [immigrants] try to create a ghettoized Islam in that area, be it Arab, Pakistani, African, or whatever. So sometimes you are not accepted."
Abdul-Latif does mention having good relationships with some members and leadership of the community closer to where he lives, but he remains more socially active in the Wyandanch community.
"I predominantly pray at the masjid closer to me, but most of the activities that I am engaged in are here in Wyandanch." (T/P007/R03)
Mi'raj Islamic News Agency (MINA)