Malaysian Judge Calls for Laws to Be Amended to Curb Child Marriages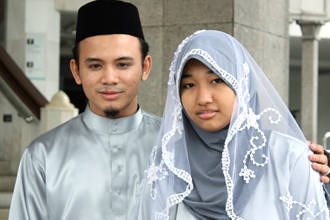 Kuala Lumpur, 09 Muharram 1438/10 October 2016 – A former syariah judge has called for the syariah laws to be amended to curb child marriages, thestar.com reported.
Former syariah head judge and Terengganu mufti Ismail Yahya said the minimum age for Muslim girls to marry was 16, but girls under that age could still be married if the state's chief minister approved the union.
Referring to the Quran, he said that Islam counted maturity and wisdom as necessary qualities for a marriage, and argued that the religion encouraged marriage for adults only.
"To prevent any future complications like divorce and health problems, we should standardise syariah laws and set a minimum age of 18 for marriage," he said at a forum on child marriages yesterday.
These amendments would go a long way in preventing underage marriages, many of which happen as a result of attempts to decriminalise rape, said Sisters In Islam (SIS) Executive Director Rozana Isa.
"Our concern is that Islam is being manipulated," she said.
"To escape criminalisation, rapists are marrying their victims — even if they're underage."
The SIS-organised forum, themed "Underage Marriages: Love or Exploitation?", also featured panellists like UNICEF Representative to Malaysia Marianne Clark-Hattingh and Malaysian Bar Council syariah law committee chairman Kuthubul Zaman Bukhari.
"How can we allow a rapist to marry his victim? These laws need to be changed," Kuthubul said. (T/R07/R01)
Mi'raj Islamic News Agency (MINA)