Malaysia Calls for ASEAN to Coordinate Aid for Myanmar's Rohingya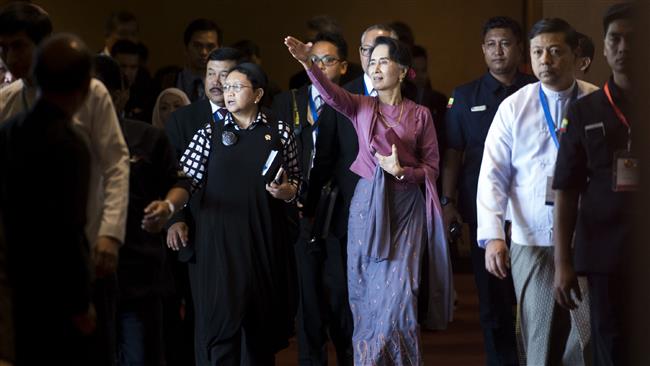 Indonesia's Foreign Minister Retno Marsudi (L) and Myanmar State Counselor/Foreign Minister Aung San Suu Kyi (R) attend ASEAN meeting in Yangon, Dec. 19, 2016. AFP photo.
Yangon, 19 Rabiul Awwal 1438/19 December 2016 (MINA) – Malaysia said on Monday the plight of Rohingya Muslims in Myanmar was a regional concern and called for the Association of South East Asian Nations (ASEAN) to coordinate humanitarian aid and investigate alleged atrocities committed against them.
Malaysian Foreign Minister Anifah Aman was speaking at a meeting of the 10-nation bloc in Yangon called by Myanmar leader Aung San Suu Kyi after weeks of reports that the army has killed, raped and arbitrarily arrested Rohingya civilians, CNA reported.
Myanmar has denied the accusations, saying many of the reports are fabricated and it insists the strife in Rakhine State, where many Rohingya live, is an internal matter.
In addition to fending off diplomatic pressure over the crisis, the Myanmar government has also invited a handpicked media delegation to visit the affected region this week.
Anifah said events in Rakhine State were a matter of regional security and stability, noting that about 56,000 Rohingya now live in Muslim-majority Malaysia having fled previous unrest in Myanmar.
"We believe that the situation is now of a regional concern and should be resolved together," Anifah told the meeting, according to a transcript of his speech provided by the Malaysian Ministry of Foreign Affairs.
Progress in improving the human rights of the Rohingya had been "rather slow", he said, noting the stream of reports about abuses being committed in Rakhine State.
A campaign of violence
Anifah also warned that Islamic State militants "could be taking advantage of this situation".
The government of predominantly Buddhist Myanmar has said that militants with links to Islamists overseas were behind attacks on security posts near Myanmar's border with Bangladesh, in the north of Rakhine State, on Oct. 9.
Myanmar troops have poured into the Muslim-majority area since the attacks that killed nine police officers.
At least 86 people have died and an estimated 27,000 Rohingya have fled to Bangladesh since Oct. 9.
Refugees, residents and human rights groups say Myanmar soldiers have committed summary executions, raped Rohingya women and burned homes.
The majority of the population in northern Rakhine State are Rohingya Muslims who are denied citizenship in Myanmar, where they are considered illegal immigrants from neighbouring Bangladesh.
Independent media and observers have been denied access to northern Rakhine State. Some Rohingya communities have also been off-limits to aid agencies on security grounds for more than two months, raising fears about the welfare of a population that was already experiencing high rates of malnutrition.
A group of journalists chosen by the Ministry of Information to represent domestic and international media was set to visit Maungdaw, the main site of the conflict, on Monday.
Officials did not invite most media organisations that have reported on the alleged abuses, including Reuters.
Efforts to rebut accusations of army abuses were undermined by the release of a lengthy report from Amnesty International on Monday, accusing Myanmar of "a campaign of violence against Rohingya people that may amount to crimes against humanity".
The rights group cited satellite images and testimony from Rohingya in Rakhine State and Bangladesh. Among myriad abuses, it alleged large-scale "enforced disappearances" of village elders and religious leaders in Maungdaw.
"While the military is directly responsible for the violations, Aung San Suu Kyi has failed to live up to both her political and moral responsibility to try to stop and condemn what is unfolding in Rakhine State," Rafendi Djamin, Amnesty International's director for Southeast Asia and the Pacific, said in a statement. (T/R07/R01)
Mi'raj Islamic News Agency (MINA)