JORDANIAN MPS "SHOCKED" BY GOVT DECISION TO RETURN AMBASSADOR TO ISRAEL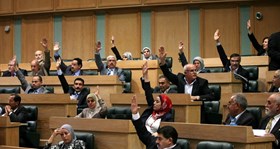 Amman, 13 Rabi'ul Akhir 1436/3 February 2015 (MINA) – The Jordanian House of Representatives voiced deep disappointment over a government decision announcing that Jordan's ambassador to Israel would return to his post in Tel Aviv as of Monday.
At least 11 Members of the Jordanian parliamentary committee on Palestine said in a preliminary commentary on the decision, The Palestinian Information Center (PIC) quoted by Mi'raj Islamic News Agency (MINA) as reporting.
"We, members of the parliamentary committee on Palestine, have been shocked by the government's decision to return Jordanian ambassador to Tel Aviv, Walid Ubaidat, to resume his diplomatic mission."
"The Jordanian government is overlooking the ongoing daily assaults perpetrated by the Israeli occupation on Jerusalem's Islamic and Christian sanctuaries. It also turns blind eyes to the despotism executed against Palestinians and the sacrilegious assaults targeting Muslims' holy al-Aqsa Mosque from the crack of dawn to twilight," the statement added.
The committee said it would step up protest moves in case the decision is officially adopted by the Jordanian government.
"This is an out-of-the-place decision Mr. premier [Abdullah Ennsour]. We appeal to you to reconsider the decision," the statement read.
Israel should bear in mind that preserving the dignity of the Palestinian people and the sanctity of holy Jerusalem and al-Aqsa Mosque is the only way to make any diplomatic ties with Jordan see the day, they said.
The Jordanian government asked ambassador Walid Obeidat to return to Tel Aviv three months after being recalled over vandalism on Jerusalem's al-Aqsa Mosque, government spokesman Mohammed al-Momani said.
Al-Momani, speaking during a meeting of the Jordanian parliament's finance committee on Monday, said that the return of the ambassador to Tel Aviv was approved after the circumstances for his recall to Amman had changed.
He said that the number of worshipers at the Al-Aqsa Mosque had risen, reaching 65,000 on special prayer days.
Speaking to the Anadolu News Agency, former deputy parliament speaker, MP Khalil Attia, dubbed the move "a free service paid to the Israeli occupation premier, Benjamin Netanyahu, ahead of the electoral race."
The recall had put enormous pressure on already frosty ties between Israel and Jordan. Tensions soared to a new level when in early November Israeli occupation officers and settlers stepped up desecration assaults on holy Al-Aqsa Mosque and Islamic sanctuaries across the Occupied Palestinian territories. (T/P011/R04)
Mi'raj Islamic News Agency (MINA)