Jokowi to Give Dr M Red Carpet Welcome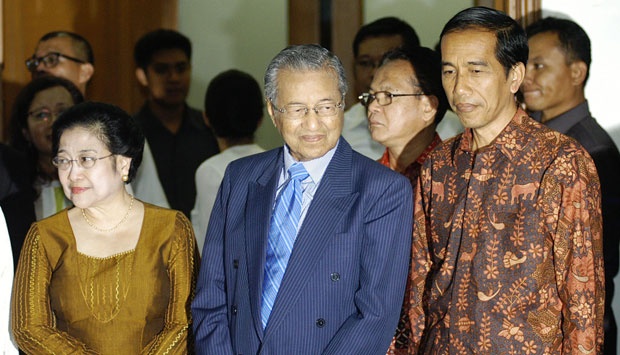 Kuala Lumpur, MINA — Upon his return from Istana Negara after being sworn in as Malaysia's seventh Prime Minister on May 10, an aide of Tun Dr Mahathir Moha­mad received a call from Jakarta.
On the line was Indonesian Presi­dent Joko Widodo, who wanted to personally congratulate Dr Maha­thir.
"He called just after the swearing-in ceremony. Dr Mahathir was about to hold a press conference on Pakatan Harapan's government.
"Jokowi wanted to be the first (leader) to call and we wanted to make sure that he spoke to Dr Mahathir. They talked for about five minutes," said the aide.
Both leaders are no strangers to each other. They were introduced by Megawati Soekarnoputri in Jakarta when Jokowi was busy campaigning for Indonesia's presidential election in 2014.
According to a report, just before leaving Megawati's residence, Dr Mahathir told Jokowi that he would "pray for him".
If Megawati's relationship with Dr Mahathir was close, with Jokowi it was superb, said an aide.
Jokowi came to Malaysia a few months later after he became president and one of his programmes was to fulfil Dr Mahathir's invitation to visit the Proton plant.
Back then, Indonesia was embarking on a national car project and wanted Proton's input and possible collaboration.
There has been no news of that collaboration till today, but what did make news during that visit was the 90-year-old Proton adviser driving the Indonesian president on a three-lap spin in an electric Iriz at Proton's Centre of Excellence.
Jokowi had demonstrated perfect calmness and Dr Mahathir could not help but express admiration for his friend.
Today, Dr Mahathir arrives in Jakarta for an overnight visit to meet Jokowi. It is tradition within ASEAN for new leaders to visit most, if not all, member countries,  reports Star Online.
When Dr Mahathir was elected this time, he specifically said he wanted to go round the region first, something he did during his previous tenure as Prime Minister.
"Tokyo was his first trip abroad because the invitation to talk at the Nikkei conference was accepted much earlier.
"Jakarta will be his first official trip in the region," said the aide.
Strong despite problems
Bilateral ties between Mal­aysia and Indonesia have been strong in the past few years despite problems related to maritime territorial claims and arrests of fishermen caught for intrusion, among others.
Managing relations is a priority for leaders of both countries and regular consultations have helped ease some of the problems, which have at times threatened to spiral out of control.
While ties have been good, this trip will also be an opportunity for Dr Mahathir to explain his accusation that his predecessor is a descendant of Bugis pirates.
For that purported remark, Dr Mahathir was probed by the police and Indonesian Vice-President Jusuf Kalla was reported to have demanded that Dr Mahathir apologise for his remarks.
"As a person with Bugis ancestry, I protest (the remark) and I am shocked. So, Dr Mahathir should apologise as the Bugis community is not only in South Sulawesi but all over Indonesia and Malaysia," Jusuf was quoted as saying by Indonesian media Republika.
An aide admitted that there were many accusations against Dr Maha­thir over the matter, which he felt was a non-issue.
"But obviously some people were using it to instigate the Indonesians and perhaps Jusuf was just a tool. It was terribly exploited," he said.
It is understood that Jokowi is laying out the red carpet for Dr Mahathir.
He is scheduled to welcome Dr Mahathir on arrival at the Halim Perdana Kusuma Airport and a grand welcome is expected for the Prime Minister and his delegation at the President's Palace in Bogor the next day.
This may be an introductory visit for Dr Mahathir. While both sides will be careful in their choice of words, officials from both sides will be closely observing the body lang­uage of their leaders as it may speak louder as to the future direction of bilateral ties. .(T//RS5/RS1);
Mi'raj Islamic News Agency (MINA)