Jama'ah Muslimin (Hizbullah) in South Sumatra Holds Tabligh Akbar 1445 H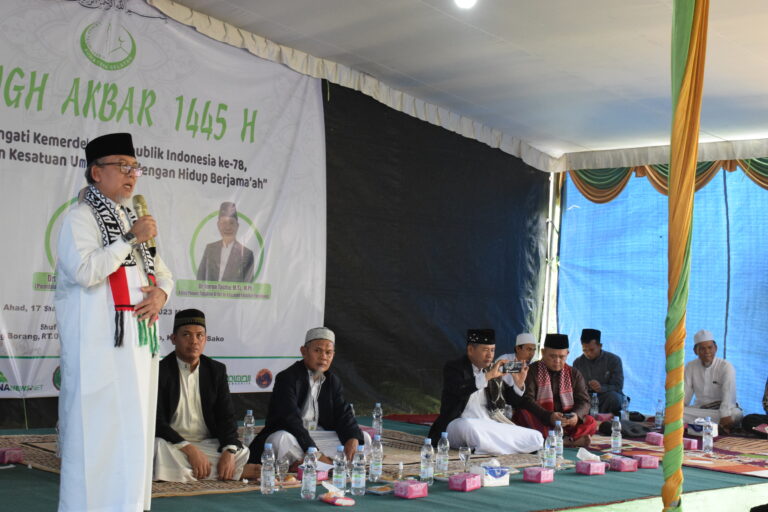 Palembang, MINA – Jama'ah Muslimin (Hizbullah) in South Sumatra held Tabligh Akbar 1445 H with the theme "Commemorating the 78th Independence of the Republic of Indonesia, We Increase the Unity of the Muslim Community by Living in Congregation".
The event was attended by 500 worshipers and held at Shuffah Hizbullah and Madrasah Al-Fatah, Sako, Palembang on South Sumatra on Sunday.
The Chief Executive, Ilham Husin said the event was aimed at strengthening Islamic brotherhood (ukhuwah) among fellow Muslims.
Meanwhile, in his speech, the Governor of South Sumatra, represented by Drs. Koimudin expressed his full support for friendship-connecting events such as Tabligh Akbar.
"On behalf of the government of South Sumatra Province, I welcome the holding of this event with great joy," he said.
The sermon was delivered by the Head of the Tadabbur Al-Qur'an Khazanah Benevolent Islamic Boarding School, Palembang, Dr. Imron Taslim's tausiah about the three principles of grateful people, as well as the tausiah of Imaam Muslimin KH. Yakhsyallah Mansur about gratitude being the cause of increasing blessings and the longevity of the blessings that have been obtained.
"We must be grateful for the blessings of this independence, we can fulfill it through the abilities, expertise and skills that we each have," said Imaam.
Imaam also appealed to participate in respecting and appreciating the services of the heroes who died in the struggle. (T/RE1/P2)
Mi'raj News Agency (MINA)