ISRAELI POLICEWOMEN APPOINTED FOR SUPPRESSING JERUSALEMITE WOMEN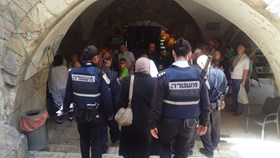 Al-Quds (Jerusalem), 15 Rajab 1436/5 May 2015 (MINA) – A unit of Israeli policemen has recently been seen in the vicinity of the Aqsa Mosque chasing Jerusalemite women and banning them from entering the holy site.
Salwa al-Ghazawi, a Jerusalemite woman and activist in defending the Aqsa Mosque from settlers' daily incursions, said that the policewomen chased a group of Jerusalemite women who were chanting Allahu Akbar confronting settlers who stormed the Mosque earlier.
"The Israeli policewomen grabbed us violently after reaching the Silsilah gate. They pushed us severely when we tried to go away," she said, The Palestinian Information Center (PIC) quoted by Mi'raj Islamic News Agency (MINA) as reporting.
Gazawi said the arrested women were taken to Qashaleh and Russian Compound investigation centers. Then, they were released in the evening to be brought to trials in the next day to be deported from the Aqsa Mosque for a period of 3-4 months.
A Jerusalemite woman called Sahar al-Natshah was exposed to a more savage attack by Israeli policewomen who attacked her on the roof of the Dome of the Rock during an incursion of Israeli MK Shuli Mualem into the Aqsa Mosque.
According to observers, recruiting Israeli policewomen to work in Occupied Jerusalem aims to intimidate the Jerusalemite women by beating them with batons, pushing them severely and removing their head covers.
Kidnapping Jerusalemite women from the vicinity of the Aqsa Mosque has been a seriously dangerous phenomenon. The Israeli police in Occupied Jerusalem daily arrest Palestinian women, detain their ID cards, and take pictures for them which prevents them from practicing their rights of worship.(T/P008/R04)
Mi'raj Islamic News Agency (MINA)