ISRAELI POLICE DETAIN, INTERROGATE 6-YEAR-OLD IN JERUSALEM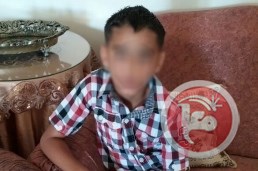 Bethlehem, 11 Rajab 1436/30 April 2015 (MINA)– Undercover Israeli operatives detained and interrogated a 6-year-old Palestinian boy and his twelve-year-old brother in occupied East Jerusalem Tuesday.
The operatives stopped their patrol car near the boy and his older brother in the occupied East Jerusalem neighborhood of Wadi al-Joz around 7:30 p.m. and arrested them both, Israeli media Haaretz reported.
An Israeli police spokesperson did not immediately return Ma'an's request for information on the incident, but told Israeli media the children were detained after throwing rocks at a bus, Maan News Agency quoted by Mi'raj Islamic News Agency (MINA) as reporting.
The 6-year-old was reportedly interrogated for nearly eight hours.
The children were taken in a squad car to National Police Headquarters, where family members saw them in the vehicle in the parking lot. At 11:30 p.m. the children were taken to the Shalem police station and the 6-year-old was not released to his parents until 3:30 a.m, Haaretz reported.
Children under 12 years of age may not be arrested or detained under Israeli law.
The childrens' two cousins, ages 13 and 15, were reportedly arrested Monday.
Tuesday's events come as Israeli forces continue to systematically detain and convict Palestinian youth for alleged rock throwing.
A bill was passed by Israeli leadership in November 2015 that could land an individual in jail for up to 20 years if convicted of stone throwing, a move that many argued was designed solely to target Palestinian youth in the midst of increasing violence in Jerusalem at the time.
Israeli detainment of Palestinian youth is often accompanied by harsh interrogation and conditions that violate international law, rights groups say.
Children's rights group Defense for Children International- Palestine reported that in 2014 Palestinian children spent an average of 15 days in solitary confinement following their arrest.
In one case a child was kept in isolation for a total of 26 days for interrogation purpose, the report said.
Research by the group showed that Palestinian children often arrive at Israeli interrogation centers blindfolded, bound and sleep deprived and over 75 percent detained in 2014 endured some form of physical violence between the period of their arrest and interrogation.
Israel detained 1,266 Palestinian children below the age of 15 in occupied East Jerusalem and the West Bank in 2014, according to a PLO report, and over 10,000 Palestinian children have been detained by Israeli forces since 2000. (T/P010/R04)
Mi'raj Islamic News Agency (MINA)