Israeli Occupation Kill 55 Palestinian Journalists Since 2000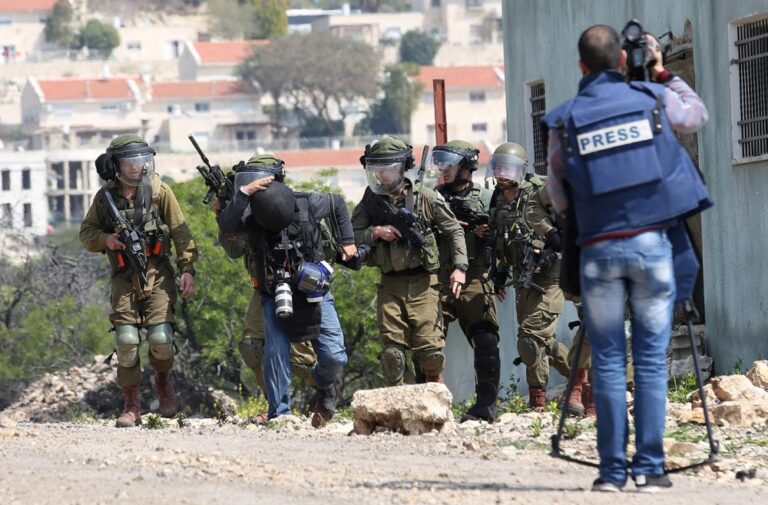 Ramallah, MINA – The Israeli occupation has killed 55 Palestinian media workers since 2000, according to the Syndicate of Palestinian Journalists (PJS) on Tuesday.
As quoted from Alray, Chairman of the Palestinian Journalists Syndicate (PJS), Naser Abu Baker said, PJS had recorded 900 violations against Palestinians journalists in 2022.
In a press conference held Monday in the occupied West Bank city of Ramallah, Abu Baker added that Israeli occupation soldiers killed two journalists in 2022, including Al Jazeera reporters, Shireen Abu Akleh, and Ghufran Warasneh.
Jerusalem has seen the highest number of Israeli attacks on Palestinian journalists in an attempt to suppress media coverage of Israeli violations of Muslim and Christian holy sites in the holy city.
Abu Baker said the PJS along with the International Federation of Journalists, was taking steps to bring Israeli attacks against journalists before the International Criminal Court (ICC).
Mohammad al-Lahham, head of the PJS Freedom Committee said that Palestinian journalists and media have been the target of 8,500 Israeli attacks since 2013.
Over the past year, 52 Palestinian journalists suffered gunshot wounds, 90 others were injured after direct hits from tear gas grenades, and 117 others were physically assaulted.
The Israeli occupation army has detained 40 Palestinian journalists over the past year, 20 of whom are still in jail.
Warning of increasing Israeli settler violence against Palestinian journalists, al-Lahham pointed out that PJS documented 99 attacks by Israeli colonial settlers against Palestinian media workers in 2020, most of which were carried out under the nose and protection of the Israeli occupation army. (T/RE1)
Mi'raj News Agency (MINA)