ISRAELI OCCUPATION FORCES DETAIN 32 YOUNG PALESTINIANS INCLUDING MINORS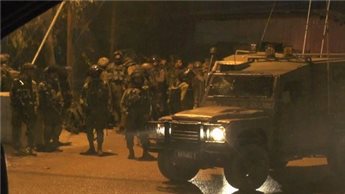 Al-Quds (Occupied Jerusalem), 24 Rabi'ul Awwal 1436/15 January 2015 (MINA) – Israeli occupation forces launched multiple dawn raids across East Jerusalem and Hebron districts Wednesday detaining 32 young Palestinian men including minors.
East Jerusalem detention raids were reported in Sur Bahir, al-Isawiya, al-Tur, Ras al-Amoud and the Old City. Lawyer of the human rights group Addameer Muhammad Mahmoud said most of the detainees in East Jerusalem were minors.
He identified them as Qusay Daana, Ahmad Abu al-Hummus, Muhammad Jumaa, Ibrahim Dandis, Ibrahim Shamasnah, Muhsin Attun, Muhammad Bkeirat and Hamza Milhis, Ma'an News Agency quoted by Mi'raj Islamic News Agency (MINA) as reporting.
Amjad Abu Asab, who chairs an East Jerusalem committee representing families of prisoners, also confirmed the detentions. He said Israeli forces apprehended Mahmoud Awsha Muna, Murad Bkeirat, Rami Bkeirat and Wahid al-Bakri from Sur Bahir village. He added that the Israeli troops handed a summons to Muhammad Awshaa Muna demanding that he appear at an Israeli interrogation center for questioning.
Also Wednesday, Israeli news sites quoted Israeli police as saying that a young Palestinian man was detained in the al-Sawahira al-Sharqiyya neighborhood of East Jerusalem. Two firearms were allegedly found in his house as well as ammunition. Another young Palestinian man was detained in El-Izariya and weapons were allegedly found in his house as well, according to Israeli police.
Hebrew-language news site Walla reported that police officers from the Maale Addumim settlement stormed al-Sawahira al-Sharqiyya and arrested a Palestinian man after they inspected his house and found weapons. The same report added that Israeli troops raided the home of a young Palestinian man in al-Izariyya and he assaulted the soldiers before they inspected the house and found weapons. He was taken into custody for questioning.
Furthermore, Israeli troops raided the town of Beit Ummar north of Hebron in the southern West Bank and detained 18 young men after several predawn raids across the town, a local committee spokesman said.
Muhammad Ayyad Awad of the local committee against Israeli settlements and the separation wall named the detainees as Mahmoud Yousif Nasri Alqam, 17, Imad Ahmad Abu Hashim, 24, Omar Ahmad Ayyad Awad, 28, Muhammad Ibrahim Abu Mariyya, 19, Ayish Abd al-Nasser Ikhlayyil, 19, his brother Muhammad, 18, Hamza Muhammad Ikhlayyil, 18, Amir Muhammad Abd al-Jawwad Ikhlayyil, 16, Salah Salih al-Allami, 25, Muayyad Walid Tumar, 22, Yahya Adam Ikhlayyil, 25, his brother Muhammad, 22, Yousif Mahmoud Abu Mariyya, 38, Jihad Raed Muqbil, 18, Shadi Ibrahim Bahar, 24, Mahmoud Imad Ikhlayyil, 21, Malik Bassam al-Teet, 16 and Mahmoud Badir Ikhlayyil, 28.
Awad added that Israeli troops broke into dozens of homes and vandalized them before the detentions. He added that soldiers smashed windshields of several cars parked outside.
Clashes broke out between local young men and Israeli troops in several neighborhoods. Awad said young men pelted the soldiers with stones, and the soldiers fired rubber-coated bullets and tear-gas canisters as well as stun grenades. Five Palestinians including a young girl were lightly hurt by rubber-coated bullets and tear-gas inhalation.
The invading Israeli soldiers, added Awad, distributed a statement warning the residents of Beit Ummar of the consequences if young men hurl stones at Israeli vehicles which travel on the bypass road near the town.
An Israeli army spokeswoman confirmed eight arrests in the West Bank.
She said seven "involved in terror activities" were detained from Beit Ummar.
A Hamas member was detained in Hebron, she added. (T/P010/P3)
Mi'raj Islamic News Agency (MINA)