ISRAELI FORCES, RIGHT-WINGERS STORM AQSA MOSQUE COMPOUND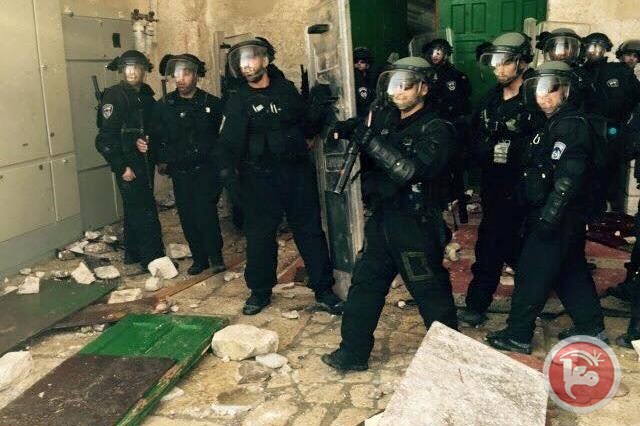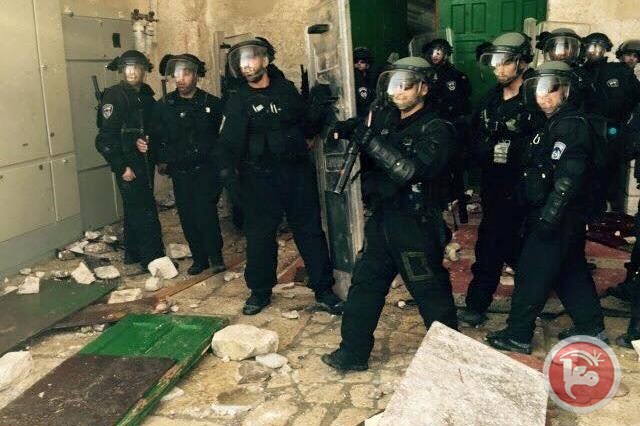 Jerusalem (Al-Quds), 11 Shawwal 1436/27 July 2015 (MINA) – Israeli forces broke into Al-Aqsa mosque compound Sunday morning firing stun grenades and rubber-coated steel bullets at Muslim worshipers as they cleared way for right-wing Jews who were visiting the compound to mark a Jewish fast day, witnesses said.
Dozens of Palestinian worshipers were reportedly hit with rubber-coated bullets and suffered excessive tear gas inhalation, while Israeli police officers were reported to have attacked worshipers with pepper spray, rods and rifle butts,  Ma'an News Agency quoted by Mi'raj Islamic News Agency (MINA).
At least three Palestinians were reportedly detained.
The officers entered the compound through the Moroccan Gate, Chain Gate and Hutta Gate and clashed with worshipers, witnesses said, before Israeli soldiers then shut down the compound's gates with chains.
Israeli soldiers also reportedly stormed Al-Aqsa mosque itself and fired rubber-coated bullets inside the holy site. The compound's Palestinian security guards were assaulted and prevented from moving, witnesses said.
Israeli police claimed that they entered the mosque after "masked rioters" threw stones at them, "with the aim of preventing further injury to police."
Israeli media reported that four police officers were injured, with two moved to hospital for treatment.
As the clashes subsided, right-wing Jews began to make their way into the compound in groups via the Moroccan gate.
Israel's minister of agriculture, Uri Ariel, was reportedly among the right-wingers to tour the compound under heavy police escort. Ariel is a member of Naftali Bennett's ultra-right Jewish Home party.
Israeli police said that a young Jewish man on Sunday attempted to enter while wearing phylacteries — small leather boxes containing sacred texts worn by Orthodox men at prayer.
When told to remove them, the man resisted and grabbed hold of railings, biting a policeman who tried to remove him before he was arrested.
Sunday marked Tisha B'Av, an annual Jewish fast day that commemorates the destruction of the First and Second Jewish Temples. The fast day is considered the saddest day in the Jewish calendar.
Earlier in the morning, Israeli forces imposed strict restrictions on entry of Palestinians Muslim worshipers into the compound.
Witnesses said that at dawn, Israeli officers allowed only women and men over the age of 50 to enter the compound. After 6:30 a.m. all Palestinians were reportedly denied entry.
The Al-Aqsa mosque compound has seen rising tensions in recent days, with Jewish organizations calling for the compound to be open to Jews for the week after Tisha B'Av and others seeking to celebrate unconfirmed reports that Israel is negotiating the reopening of the compound to non-Muslim worship.
At the end of June, International Crisis Group reported discussions between Israel and the Islamic Endowment that controls the mosque compound on allowing non-Muslim worship at the site, although the move has not yet been confirmed.
The third holiest site in Islam, the Al-Aqsa mosque compound is also venerated as Judaism's most holy place as it sits where Jews believe the First and Second Temples once stood.
Following Israel's occupation of East Jerusalem in 1967, Israel has maintained an agreement with the Islamic Endowment not to allow non-Muslim prayer in the area.
Jewish prayer is allowed at the neighboring Western Wall, which is the last remnant of the Second Temple.
However, Israeli forces regularly escort Jewish visitors to Al-Aqsa, leading to anger among Muslim worshipers.
The last time Israeli police entered the mosque itself, in November last year, Jordan — one of the very few Arab states with diplomatic relations with Israel — recalled its ambassador. (T/P010/R04)
Mi'raj Islamic News Agency (MINA)