ISRAELI CRUELTY CAUSES SEVEN PEOPLE KILLED AND 25 OTHERS INJURED IN RAFAH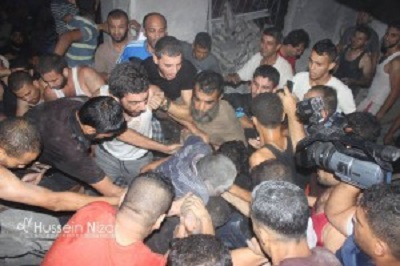 Gaza City, 26 Shawwal 1435/22 August 2014 (MINA) – Israeli occupation regime forces attacked civilian homes again in village of Tal al-Sulthon, Rafah, Thursday morning Gaza Time.
The attacks caused seven people died and 25 others injured, Mi'raj Islamic News Agency (MINA) correspondent in Gaza reported.
Dr. Ashraf Al-Qadra, a spokesman for Palestinian Health Ministry in Gaza explained names of the dead victims. They were Al-Masan Hasan Husain Younis (75), Amal Younis (53), Ahmad Kalab, Nadhzirah Kalab (40) Aisyah Athiyah, while the two others have not been identified yet.
Israeli occupation regime forces attacked civilian homes with six missiles. The missiles destroyed home of Kalab family totally and four other homes including home of Abu Sanimah and Udwan family, MINA correspondent in Gaza reported.
Medical team is still searching for victims in the ruins of buildings destroyed by the Israeli bombing. They got information that there are people under the ruins.
Until the news released, Israeli occupation regime forces attacks caused at least 29 people died since Wednesday. Health Ministry of Gaza stated that until the 46th day of Israeli occupation regime aggression on Gaza have caused at least 2058  people died and 10224 others injured.
Failure of the indirect talks between Israel occupation regime and Palestinians with Egyptian mediation resulted in the continuing the war.
Israel occupation regime refused to sign ceasefire agreement proposed by Egypt after Palestinian delegation agreed to the proposal. Al-Qassam claimed that Israel have violated the truce by attacking Gaza before ceasefire deadline on Tuesday 24.00 time of Gaza.
Israeli occupation regime forces attacked a home of Dalwu family in Shaikh Ridwan, north of Gaza City. The attack killed wife and daughter of Muhammad al-Dhaif, the Supreme Commander of Izzuddin Al-Qassam Brigades on Tuesday, around 21:15 pm Gaza time or less than three hours before the expiration of the extension of the ceasefire agreement. (L/K01/Syt/P3)
Mi'raj Islamic News Agency (MINA)