Israel to Demolish Makeshift School for Jerusalem Rural Communities' Children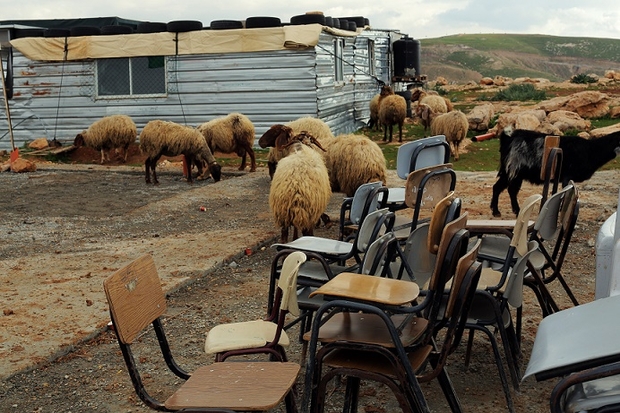 Israeli forces demolish only school in Bedouin village..

Jerusalem, 23 Jumadil Awwal 1438/20 February 2017 (MINA) – Israeli forces Sunday notified Khan Al-Ahmar School in the hills east of Jerusalem of a demolition order under the pretext it was built without an Israeli-issued permit, WAFA reported, citing a press release issued by the Palestinian Ministry of Education and Higher Education.
Israeli soldiers along with civil defense personnel stormed Khan al-Ahmar area in the Arab Jahalin Bedouin community to the east of Jerusalem, surrounded the area, and imposed a tight military cordon around the school and a nearby mosque before declaring the area a closed military zone.
Forces further set up a number of flying military checkpoints, preventing locals' movement in and out of the area amid rising tension.
The Italian-funded Khan al-Ahmar school, which is located in area C of the West Bank; under full Israeli military control, was built in 2009 out of mud and tires to serve the Bedouin communities to the east of Jerusalem.
Minister of Education and Higher Education Sabri Saidam, warned against the consequences of what he described as a 'systematic arbitrary measure' and appealed to all international bodies to promptly intervene to stop these 'inhumane measures' and protect the educational process, institutions, and children's' right to education from such attacks.
"Palestinian children's right to education is stronger than the tyranny of occupation," stressed Saidam.
Israel rarely issues construction permits for Palestinians living in area C, prompting them to embark on construction without obtaining construction permits.
OCHA argues that the planning policies applied by Israel in Area C and East Jerusalem discriminate against Palestinians, "making it extremely difficult for them to obtain building permits."
"As a result, many Palestinians build without permits to meet their housing needs and risk having their structures demolished. Palestinians must have the opportunity to participate in a fair and equitable planning system that ensures their needs are met," it added. (T/RS05/RS01)
Mi'raj Islamic News Agency (MINA)