INTERNATIONAL CONFERENCE ON PALESTINE OPENS IN LEBANESE CAPITAL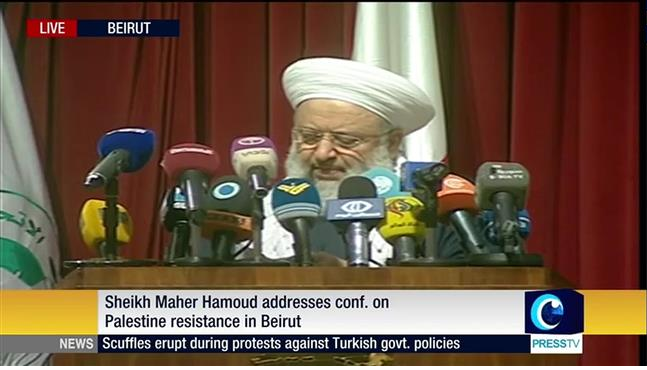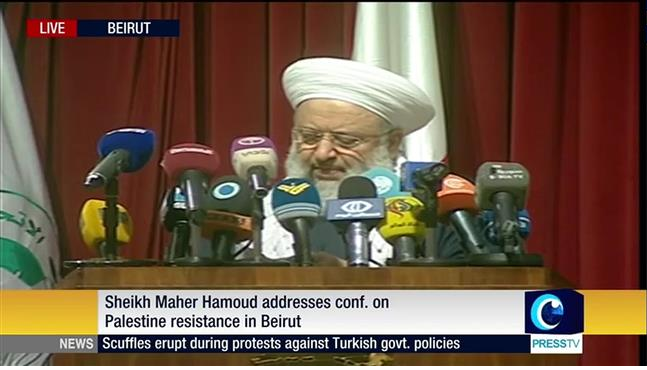 Beirut, 12 Shawwal 1436/28 July 2015 (MINA) – Muslim clerics and Palestinian activists from across the world are attending an international conference in Beirut, Lebanon, to support the Palestinian cause and the oppressed nation's resistance in the face of Israeli occupation and aggression.
Speaking in the inauguration ceremony on Tuesday, the imam of al-Quds Mosque in the southern Lebanese city of Sidon, Sheikh Maher Hamoud, lauded Palestinian factions for their struggles to counter the Israeli regime's acts of aggression.
"We are proud of being individuals confronting a cancerous tumor (Israel) in the Muslim world," said the senior cleric. Press TV quoted by Mi'raj Islamic News Agency (MINA) as reporting.
Hamoud added that the time has come to speak frankly and fearlessly against Israel instead of standing idly and watching the Tel Aviv regime demolish the al-Aqsa Mosque in the occupied Old City of al-Quds (Jerusalem).
"Should we wait for our sons in Palestine to suffer harm more than what they experience nowadays, for al-Aqsa Mosque to be restricted more or for Syrians and Yemenis to be killed more? When will the time come for us to raise our voices in unison against oppression?" asked the top religious figure.
He said the main objective of the ongoing conference on Palestine in Beirut should be the annihilation of Israel, something which will eventually happen as cited by the holy Quran and various rabbis and Israeli officials.
Hamoud further said that the Tel Aviv regime has expressed deep concerns over the Palestinian birth rate. Palestinians will at last subsequently outnumber Israelis, change the demographic features of occupied lands in their favor, and obliterate Israel, the cleric said.
The senior Lebanese clergyman said "Israel will disappear as salt solves in water."
The Tel Aviv regime has tried to change the demographic makeup of al-Quds over the past decades by constructing illegal settlements, destroying historical sites and expelling the local Palestinian population.
The al-Aqsa Mosque compound is a flashpoint Islamic site, also holy to the Jews. The mosque is Islam's third holiest site after Masjid al-Haram in Mecca and Masjid al-Nabawi in Medina.(T/R03/R04)
Mi'raj Islamic News Agency (MINA)