Indonesian Government Sets 1 Ramadhan 1440 H Fall on May 6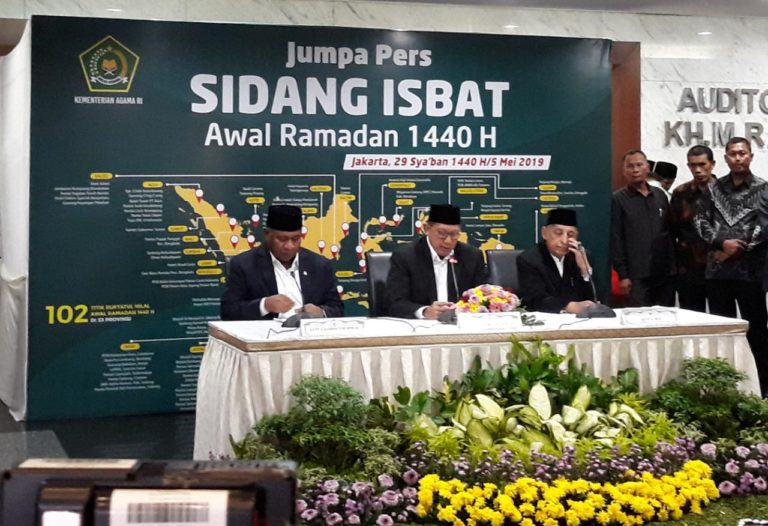 Jakarta, MINA – Indonesian Government agreed that 1 Ramadhan 1440 H falls on Monday, May 6, 2019. The decision is based on the Isbat meeting at the Ministry of Religious Affairs  office in Jakarta, tonight.
The Isbat meeting began at around 17:00 local time in KH. M. Rasjidi Auditorium with the results of voting from Chairperson of Hisab Rukyat Team, Ministry of Religious Affairs, Cecep Nurwendaya.
The meeting was attended by friendly ambassadors, representatives of Commission VIII DPR, representatives of Indonesian Ulema Council (MUI), PBNU, PP Muhammadiyah, and mass organizations, and other Islamic figures.
After hearing, Minister of Religious Affairs Lukman Hakim Saifuddin accompanied by Chairman of Commission VIII Ali Taher Parasong along with MUI Leader KH Abdullah Jaidi gave a press statement regarding the initial determination of Ramadan 1440 H.
"All participants of the meeting agreed and the meeting stipulated 1 Ramadhan in 1440 H falls on Monday, May 6, 2019," said Minister of Religion Lukman Hakim Saifuddin.
He explained that the decision was taken after the Hisab and Rukyat Team, Ministry of Religious affairs received an information from nine opinions which were removed from position of the new moon above 4 degrees.
They are spread in East Java; Bangkalan, Gresik, Lamongan. Then Makassar, South Sulawesi; Brebes, Central Java, and Sukabumi, West Java.
"The position of new moon and the height is at 4 degrees 30 minutes 59 seconds up to 5 degrees 42 minutes 59 seconds," Lukman said.
Lukman explained that determining Ramadan, the government used two methods, namely rukyat by looking at the position of new moon and reckoning or calculation.
"Rukyat can be done with the naked eye or a tool such as a telescope and seen shortly after sunset or Maghrib time," he said.
He hoped that Ramadhan 1440 H is the right time to unite communities, also looking at the future together. (TL/Sj/R04)
Mi'raj News Agency (MINA)